Meet The USAF's Long Awaited KC-46A Pegasus Tanker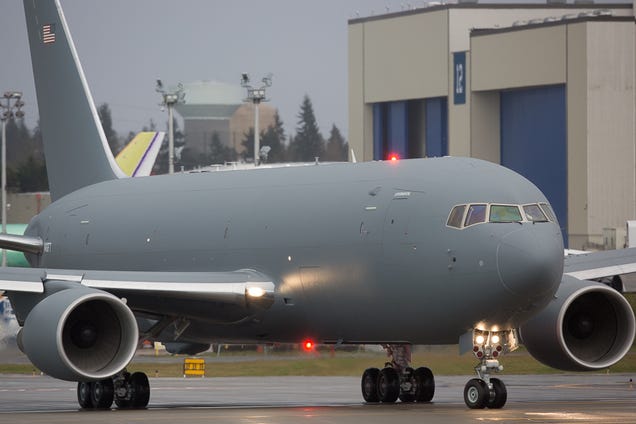 It's been a decade and a half in the making, but now the time has finally come to see the USAF's new
tanker
in whole form, moving under its own power. The KC-46A is based on different elements of different variations of the Boeing 767, and once fielded, it will represent a massive capability increase in American aerial refueling and transport capabilities.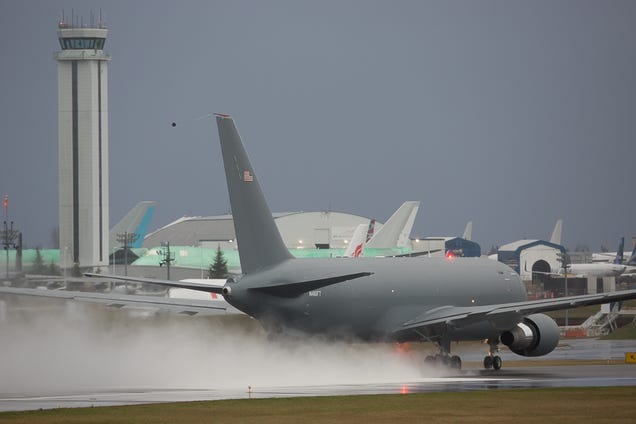 Today, December 27th, 2014, the winner of the
long-fought and highly controversial KC-X contract
rumbled out of its parking spot at
Boeing's heavy airliner
plant in Everett, Washington, and executed a series of taxi tests, including high-speed runs. The wide-body airliner-cum-cargo hauler-cum military aerial refueler should make its first flight very soon, with some rumors stating that it could happen as early as tomorrow.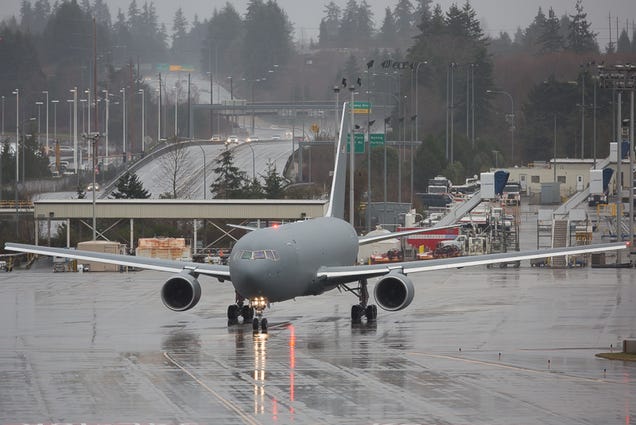 EXPAND
The KC-46A will feature innovative new technologies and capabilities. A three-point hose and drogue refueling system will be standard along with a fly-by-wire refueling boom. Omitted from the KC-46A design is the traditional 'boom pod' with its bay window and line-of-sight boom control station. Instead, the KC-46A will use a 3D video system fed to a refueling console for boom control.
Industry provided photo of the KC-46A's 3D refueling control station:
EXPAND
2
3
The Pegasus will be equipped with a modern radar warning receiver and
defensive countermeasure systems
, along with a full glass cockpit and an advanced navigation system to comply with international standards. When it comes to lugging cargo around, the KC-46A far exceeds the KC-135 in every respect, with 18 palets being carried on a single mission. The Pegasus will also be more economical to operate considering the enhanced capability it provides over the Stratotanker. Other goodies include night-vision compatible lighting and future multi-mission capabilities via in the installation of plug-and-play consoles.
The KC-X contract will likely see 179 KC-46As replace the oldest
KC-135 Stratotankers (some are close to 60 years old)
at a cost of over $50 billion through 2028. The first four units will work as engineering test and evaluation models, with the 175 that follow being 'front line' KC-46s. Hundreds more Pegasus tankers could continue to be supplied beyond the initial 179 aircraft if the USAF is happy with the jet's performance and there are funds available. The first 18 combat capable KC-46As will be delivered by the end of 2017 to McConnell AFB, in Wichita, Kansas. Altus AFB, located in Oklahoma, will house the type's official training unit.
Remember: Nobody kicks ass without tanker gas... NOBODY!
Exclusive: Meet The USAF's Long Awaited KC-46A Pegasus Tanker