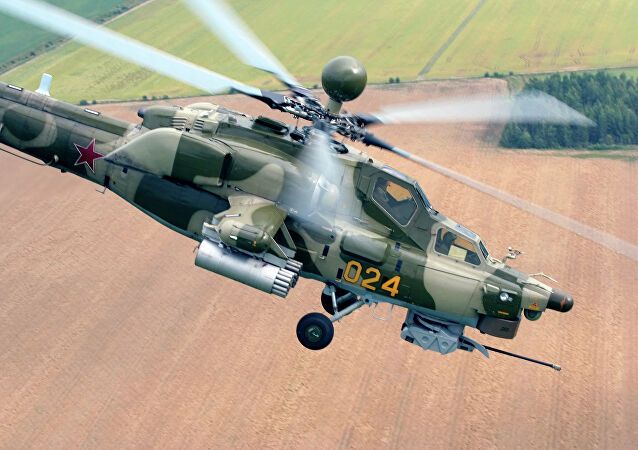 The development of "Night Superhunter" reached the finish line. By the end of the year, the Russian Mi-28NM attack helicopter will pass state tests, EDNews.net reports citing Bulgarian Military News
.
The machine will have to confirm its flight performance, as well as conduct firing with a whole range of aviation weapons: from cannon systems and missiles to aerial bombs. This is the last phase before the end of development work and the introduction of new equipment into service.
A contract for the purchase of a large batch of modernized machines was signed before the official completion of all these stages. According to experts, this is normal practice when creating modern aircraft so that they are not outdated by the time they arrive in the unit.
The supply contract for the VKS 96 Mi-28NM was signed at the Army-2019 forum. The contract was concluded even before the completion of development work and state tests.
As previously reported by BulgarianMilitary.com, this year the first batch of six new-production Mi-28NM helicopters should be produced. These vehicles will go to the 344th Center for Combat Training and Retraining of Flight Personnel. Subsequently, 12-16 units per year will be purchased.
Weapons for the "super hunter"
The helicopter will be equipped with several new types of missiles. Last year, it was reported that the "superhunter" will be adopted by the Hermes-A, also known as the "Product 305". The firing range of such ammunition will allow the Mi-28NM to attack targets at a distance of 15-20 km. It will also become possible to use the long-range ATGM Chrysanthemum-VM.
In addition to new weapons, the "super hunter" received many other design changes. The most notable of these was the supra-muzzle radar station H025. It allows the helicopter to detect targets outside of visual visibility.
Another important innovation called the military dual control. Helicopter can be steered from any of the two seats. This will allow the use of conventional machines for training and training pilots.
The Mi-28NM will be fitted with VK-2500P engines, which are fully manufactured in Russia under the import substitution program. Together with advanced all-composite propeller blades, this will increase the cruising speed of the helicopter by 10-13%.
Defense Minister Sergei Shoigu said in December last year that the Mi-28NM prototype had already been tested in Syria. According to him, the helicopter was involved there in real hostilities. Along with it, other newest models of weapons were tested: the fifth-generation Su-57 fighter and the Orion medium strike drone.
In March last year, a video made by Syrian militants in the northern province of Hama appeared in the media. A new helicopter, identified as a Mi-28NM, accompanied by a Mi-35M, was spotted near the city of Al-Latamina.
During the modernization, the combat experience of the basic version of the Mi-28N was taken into account. Helicopters of this model were actively used in Syria in battles against the terrorist group ISIS. The Ministry of Defense showed video footage of the helicopter hitting tanks and other targets of militants from a distance of up to 5.5 km
Russia's 'Night Superhunter' goes into production after successful combat tests
m.ednews.net