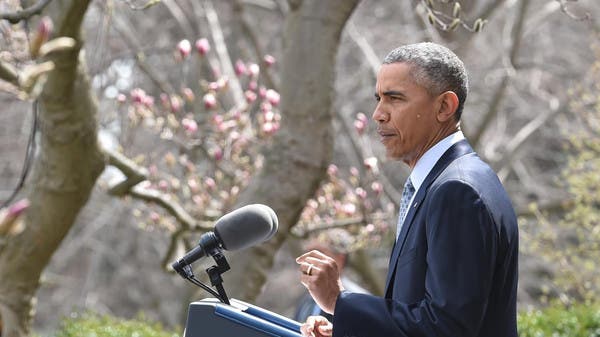 US President Bararck Obama gestures while making a statement at the White House in Washington, DC, on April 2, 2015. (AFP)
Staff writer, Al Arabiya News
Thursday, 2 April 2015
U.S. President Barack Obama heralded a framework nuclear agreement with Iran as an "historic" agreement that could pave the way for a final deal that would leave the U.S., its allies and the world safer.
Speaking from the White House Thursday, Obama said the agreement "is a good deal, a deal that meets our core objectives." He said verification mechanisms built into the framework agreed to in Switzerland hours earlier would ensure that "if Iran cheats, the world with know it."
Obama has invested significant political capital in the nuclear negotiations. The talks have strained the U.S. relationship with Israel, which sees Tehran as an existential threat, and deepened tensions with Congress.
The president said he would speak to Prime Minister Benjamin Netanyahu to reassure him of steadfast U.S. support for Israel's security despite a landmark nuclear deal with Iran.
Netanyahu had bitterly opposed an agreement between the world powers and Iran.
"There is no daylight when it comes to our support for Israel's security and our concerns about Iran's destabilizing policies and threats towards Israel," Obama said.
One of Obama's toughest challenges will be convincing lawmakers to hold off on legislation that would authorize new sanctions on Iran. He said his administration would fully brief Congress on the diplomatic efforts, which he called "our best option by far."
Separately, the U.S. Congress must have a say in any final nuclear agreement with the Islamic republic, Chairman of the Senate Committee on Foreign Relations Bob Corker said on Thursday.
Corker added that he expected a "strong vote" from the committee in mid-April on legislation that would allow congress to review a final Iran nuclear deal.
In his speech, Obama added that he had invited Gulf leaders to a spring summit at Camp David to discuss security cooperation in the region.
"I'm inviting the leaders of the six countries who make up the Gulf Cooperation Council ... to discuss how we can further strengthen our security cooperation while resolving the multiple conflicts that have caused so much hardship and instability throughout the Middle East," Obama said as he discussed a landmark nuclear deal with Iran.
Last Update: Friday, 3 April 2015 KSA 00:41 - GMT 21:41
http://english.alarabiya.net/en/News/middle-east/2015/04/02/Obama-hails-Iran-framework-as-historic-understanding.html