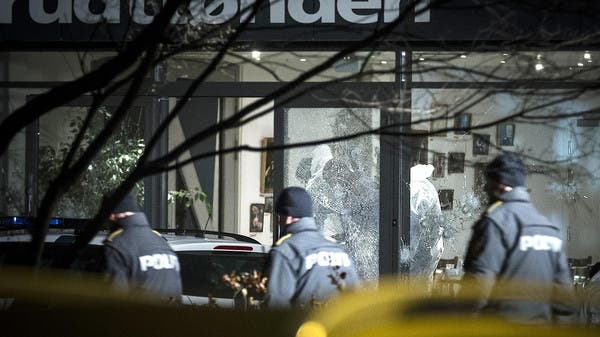 Forensic police officers work at the area around a cultural centre in Copenhagen, Denmark, where shots were fired during a debate on Islam and free speech on February 14, 2015. (AFP)
Staff writer, Al Arabiya News
Saturday, 14 February 2015
A civilian has died after shots were fired in a cafe in the Danish capital Copenhagen where controversial Swedish artist Lars Vilks attended a debate on art and blasphemy, the police said on Saturday.
The two suspects - who have not yet been identified - fled in a Volkswagen Polo getway car, which has since been found abandoned near the scene, Agence France-Presse reported. French ambassador Francois Zimeray, who was at the debate, told AFP the attack had "the same intention as Charlie Hebdo," referring to the killings at the satirical newspaper in Paris last month.
Vilks stirred controversy in 2007 with published drawings depicting the Prophet Mohammad as a dog which sparked threats from Islamist militant groups. He has since lived under heavy security.
'Terrorist act'
Danish Prime Minister Helle Thorning-Schmidt said Saturday's shooting at a cultural centre in Copenhagen hosting a debate on Islam and free speech was a "terrorist act."
"Denmark has today been hit by a cynical act of violence. Everything leads us to believe that the shooting was a political attack and therefore a terrorist act," she said in a statement.
French ambassador Francois Zimeray, who was also there, said on Twitter that he was not harmed.
Zimeray told AFP the attackers were seeking to replicate the January 7 assault by jihadists in Paris on satirical newspaper Charlie Hebdo that left 12 dead.
"They shot from the outside (and) had the same intention as Charlie Hebdo, only they didn't manage to get in," Zimeray said by telephone from the venue.
"Intuitively I would say there were at least 50 gunshots, and the police here are saying 200," he told AFP.
"Bullets went through the doors and everyone threw themselves to the floor. We managed to flee the room, and now we're staying inside because it's still dangerous. The attackers haven't been caught and they could very well still be in the neighborhood."
Charlie Hebdo raised the ire of Islamist extremists by republishing those and other caricatures, and later satirising Islam in later editions.
By Denmark's side
A Femen activist, Inna Shevshenko, said on Twitter that there were several dozen people in the room.
French Foreign Minister Laurent Fabius condemned what he called a "terrorist attack targeting a public meeting", saying in a statement that France "remains by the side of the Danish authorities and people in the fight against terrorism."
Vilks has been under police protection since his 2007 cartoons were published.
The French president's office said Interior Minister Bernard Cazeneuve was headed to the scene.
Last Update: Sunday, 15 February 2015 KSA 23:37 - GMT 20:37
http://english.alarabiya.net/en/News/world/2015/02/14/Shots-fired-near-Danish-meeting-attended-by-controversial-artist.html