Our army is bigger than YOURS! China, Russia and Nato forces put on a huge show of strength as the world's powers flex their military muscles
The world's superpowers have flexed their muscles in massive parades to showcase their military strength.
China
put on an ostentatious show of military force in a parade to celebrate the 90th anniversary of the People's Liberation Army, overseen by President Xi Jinping.
Troops, nuclear missile launchers and new stealth aircraft all featured in the parade at the remote Zhurihe training base in China's remote Inner Mongolia region.
The base is Asia's largest military training centre and features life-size mockup targets, including Taiwan's presidential palace.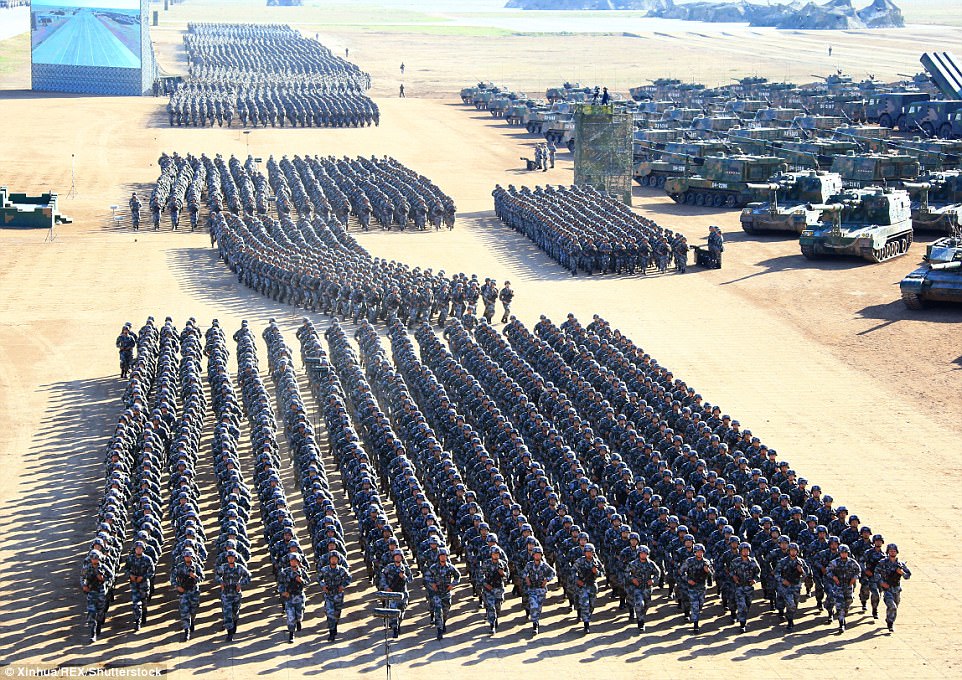 +30
China's party-run media said about 12,000 troops, more than 100 types of aircraft and 600 pieces of military hardware were put on display at the sprawling desert camp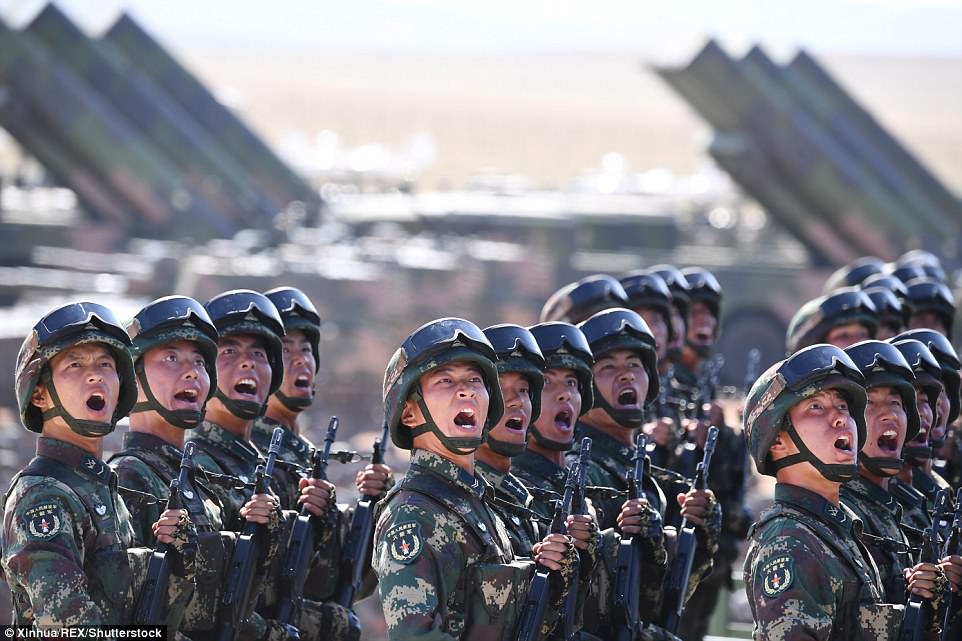 +30
A formation soldiers from the PLA's Rocket Force, which controls the nation's arsenal of nuclear and conventional ballistic missiles, shout pledges of loyalty during the parade, which are part of the celebrations of the 90th anniversary of the People's Liberation Army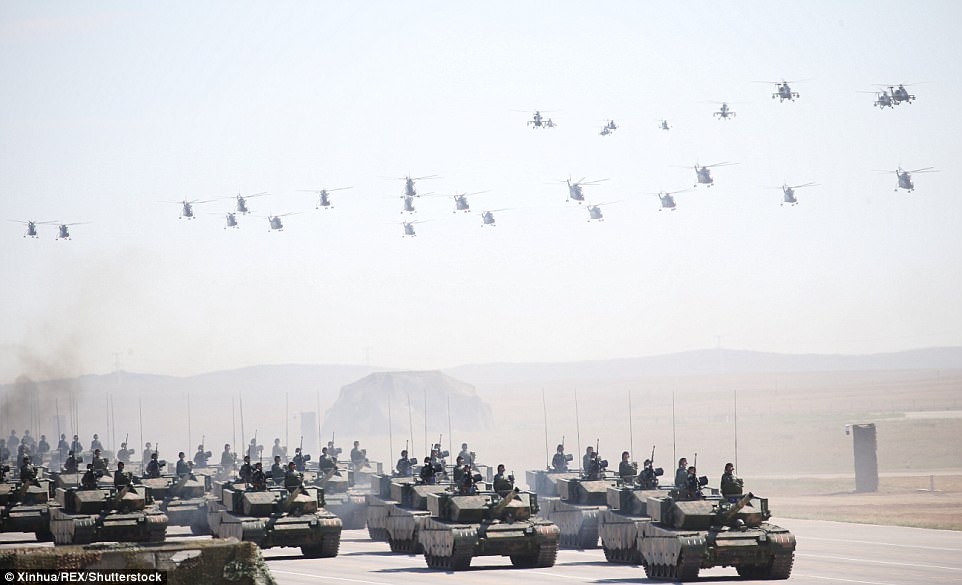 +30
Chinese Type 99 tanks parade, followed by elite airborne troops in helicopters above. The march took place at the remote Zhurihe training base in inner Mongolia, which is Asia's largest military training centre. The Chinese military said the parade had been planned for some time, and was not related to the current tensions in North Korea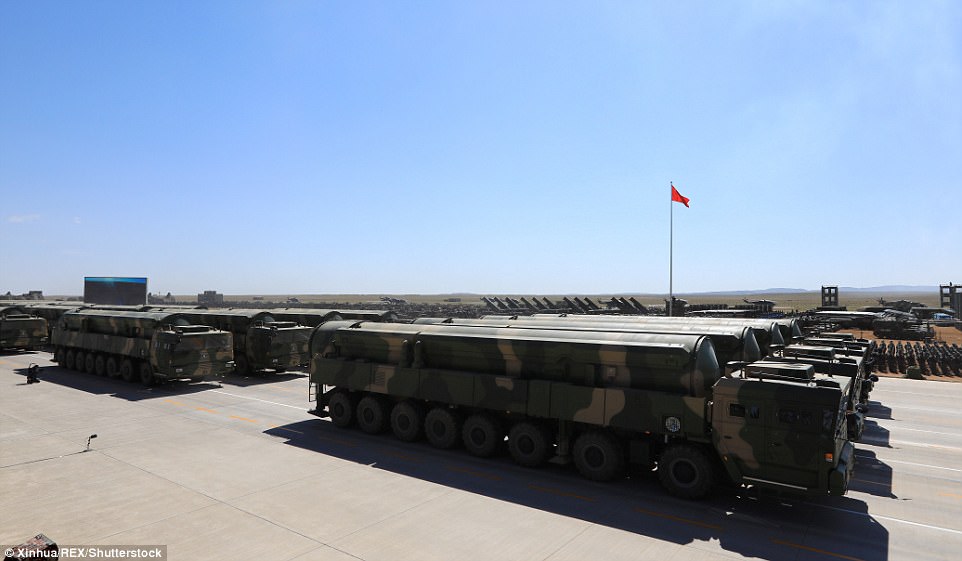 +30
The PLA rolled out some of its latest weapons at the parade, including the DF-31AG ICBM (pictured). The nuclear-capable ballistic missile has a reported range of 6,000 miles. President Trump has sharply criticized China for not doing enough to stem the nuclear ambitions of North Korea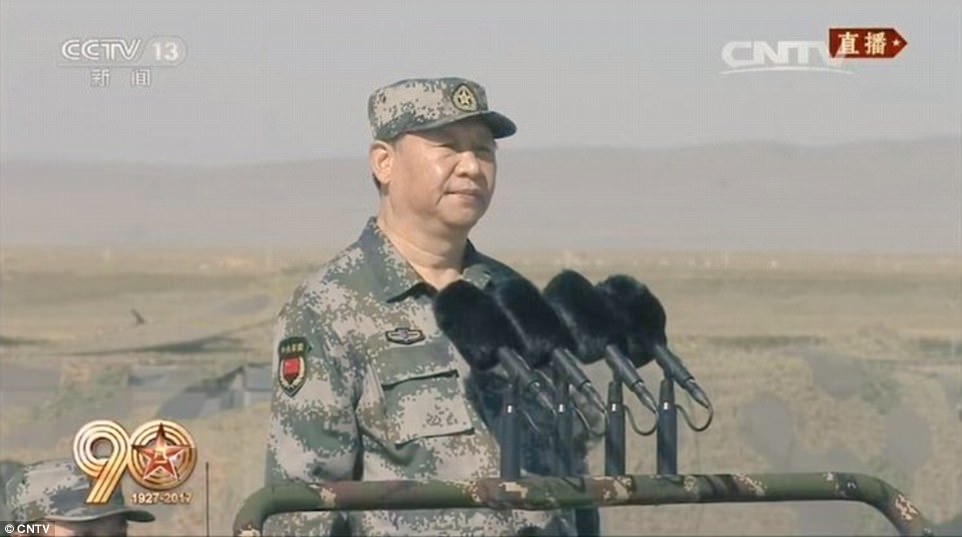 +30
Clad in military fatigues President Xi Jinping oversaw the massive show of force. He called on the PLA to transform itself into an elite fighting force and demanded that the troops pledge 'absolute loyalty' to the Communist Party. Xi's corruption purges have seen dozens of officers removed from the PLA
He said the Chinese military had the capabilities to 'preserve national sovereignty, security and interests' and demanded the troops' show 'absolute loyalty' to the party
The PLA has undergone an extensive modernisation programme with the strategic aim of competing with the US for regional dominance.
Hundreds of thousands of troops have been cut, and an anti-corruption purge has removed dozens of officers, while also investing heavily in aircraft carriers, nuclear submarines and stealth fighters.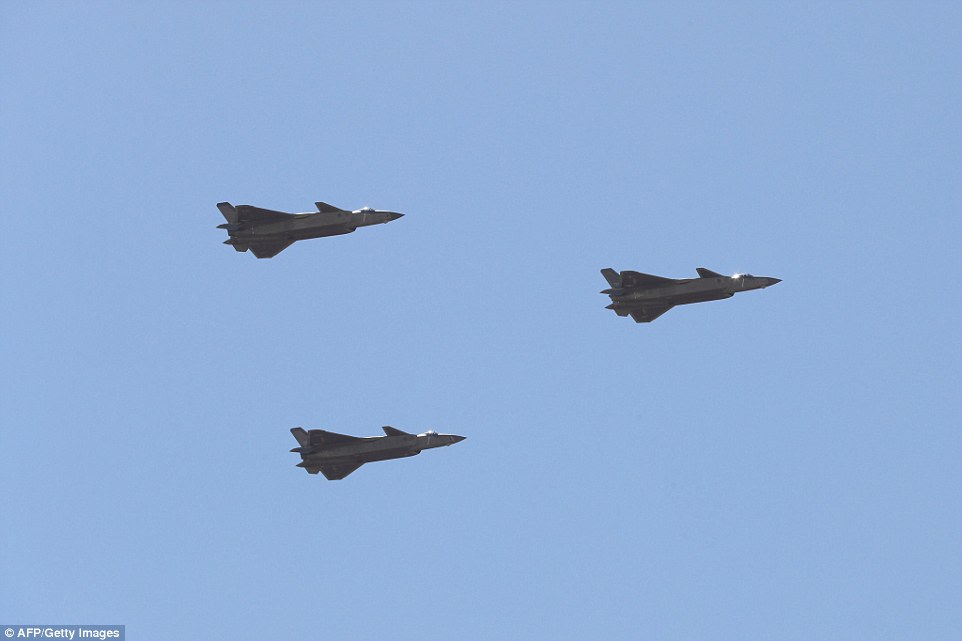 +30
A trio of Chinese J-20 stealth fighters fly overhead during the parade. The newest generation fighter by the Chinese air force is the country's most advanced aircraft and designed to potentially rival the F-22 and the F-35 of the US Air Force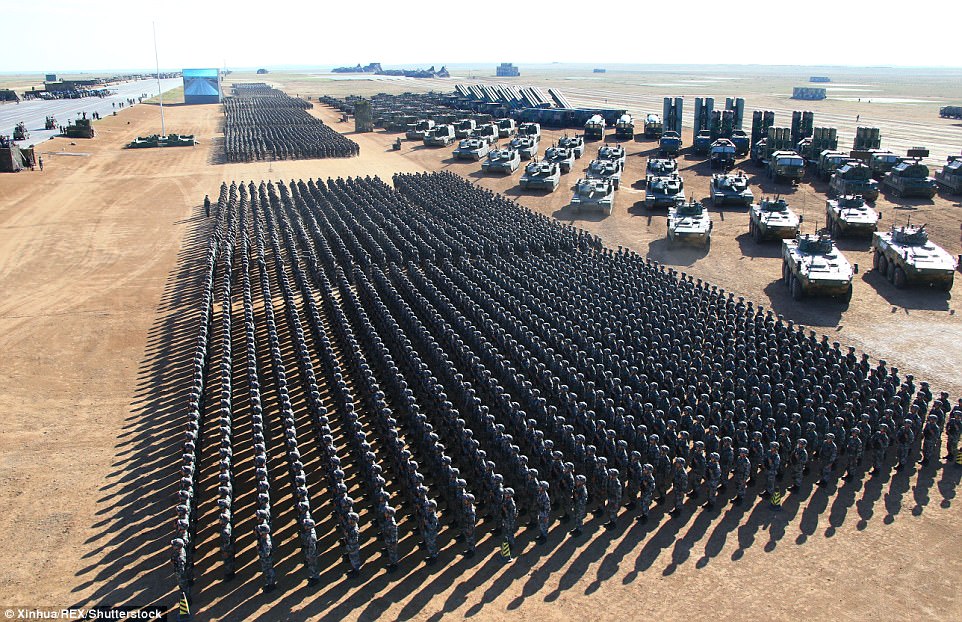 +30
Divisions on display: Up to 12,000 troops, 570 vehicles and 129 jets participated in the parade. State media reported that it was the first time that 40 per cent of the vehicles had been presented, which highlighted China's massive military spending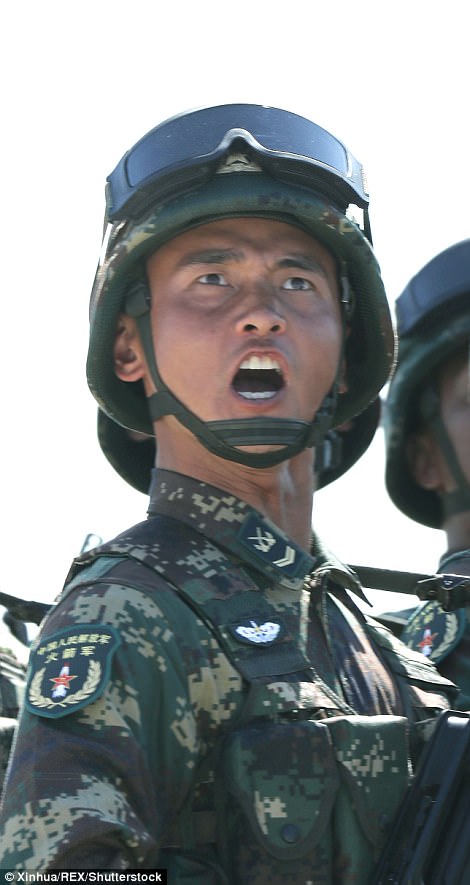 +30
+30
Xi said the military must, 'Always listen to and follow the party's orders, and march to wherever the party points' and said that the world was not peaceful, however he did not specify any hot spots the Chinese military would intervene in
+30
China's military has undergone an extensive modernisation programme, cutting thousands of troops while investing heavily in modern technology, including drones, stealth fighters, nuclear submarines and aircraft carriers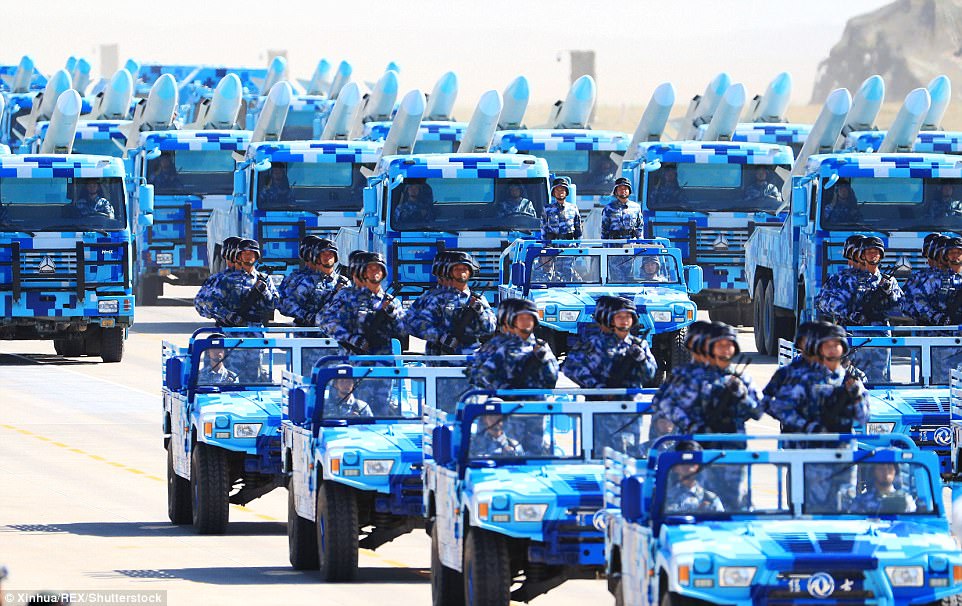 +30
Unlike previous parades seen in Beijing, the troops in Inner Mongolia were clad in full combat gear, to further emphasis their readiness. It was also the first time that President Xi had reviewed troops in such a way
Moment China showcases missiles at military 90th anniversary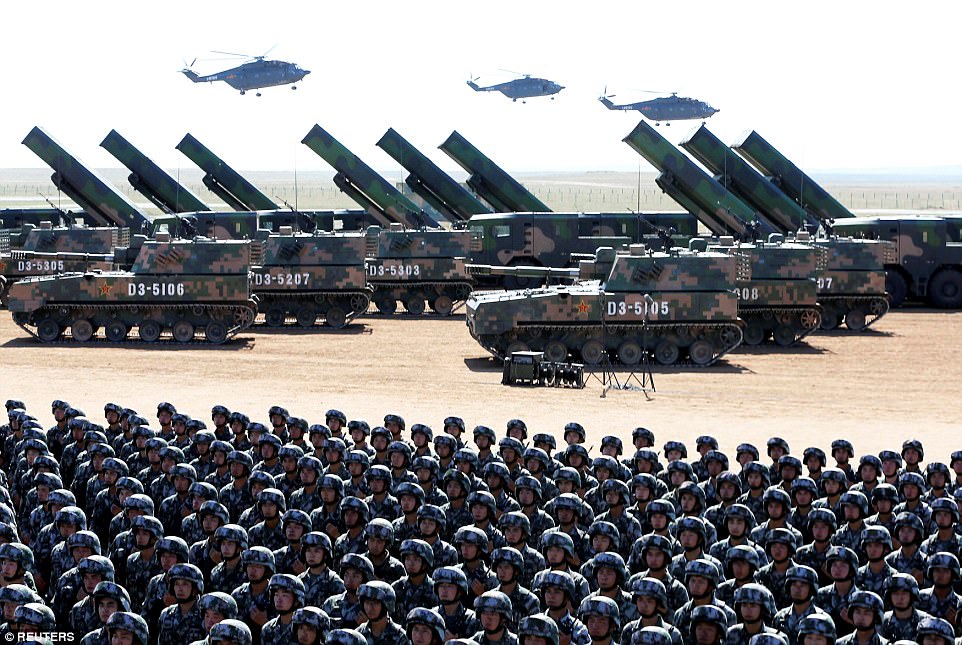 +30
Missile launchers, self-propelled artillery and transport helicopters stand on display behind the formations of troops. Xi said the Chinese military had the capabilities to 'preserve national sovereignty, security and interests'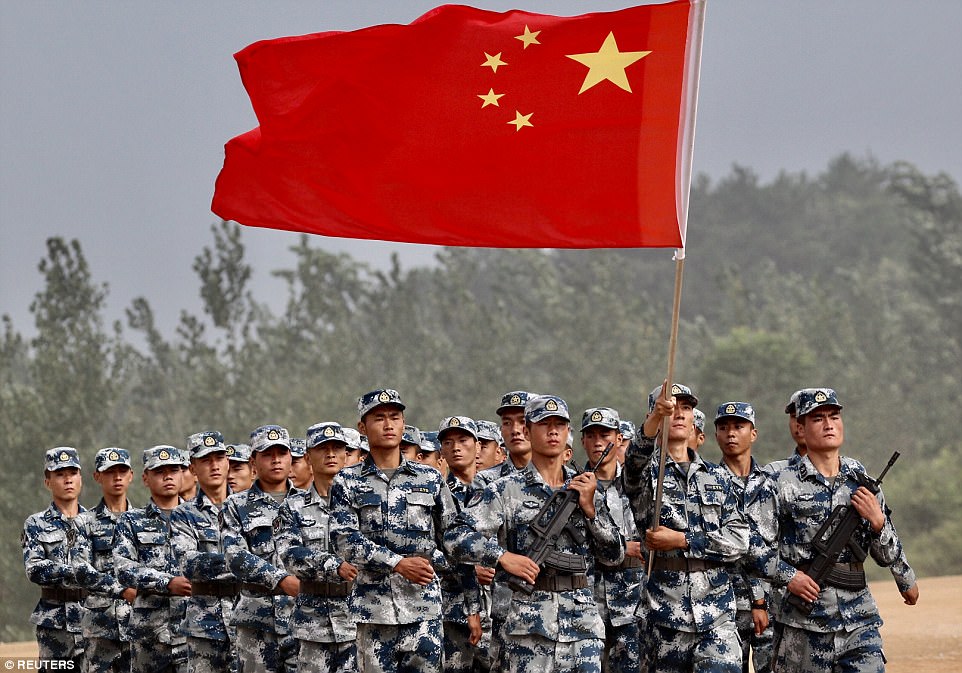 +30
It has been decades since China last fought a war and the country insists it has no hostile intent, and simply needs to defend itself. However it's increasingly assertive stance in the South China Sea has rattled its neighbours
+30
More than 100 planes flew overhead and almost 600 types of weaponry were on display for the occasion — nearly half of which were making their debut in public, according to the Defence Ministry
+30
The Chinese flag is raised during a military parade at the Zhurihe training base in China's northern Inner Mongolia region
+30
Since coming to power in 2012, the president has trumpeted the need to build a stronger combat-ready military, while leading efforts to centralise the Communist Party's control over it