Pakistan accuses India's forces of killing four near border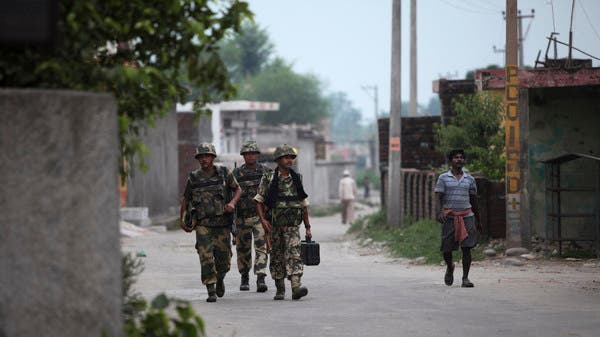 Indian soldiers patrol at Garkhal village, 30 kilometers from Jammu, India, July 15, 2015. India said Pakistani forces killed a woman on the Indian-controlled side of the border. (File: AP)
Associated Press, Islamabad
Thursday, 16 July 2015
Pakistan has accused India of killings four of its civilians with artillery fire that allegedly targeted villages in the disputed border area between the two neighboring countries.
A Pakistani army statement says that four were killed and five villagers were wounded in the shelling on Thursday in the disputed Himalayan region of Kashmir and near the eastern Pakistani city of Sialkot.
Pakistan also says it has handed the Indian diplomatic envoy a protest note over the incident.
Such exchanges occur regularly between the two archrivals, India and Pakistan fought three wars since both the countries got independence from British rule in 1947.
India on Wednesday said Pakistani forces killed a woman on the Indian-controlled side of the border. Pakistan's army later said it shot down an Indian done.
Last Update: Thursday, 16 July 2015 KSA 11:35 - GMT 08:35
http://english.alarabiya.net/en/News/asia/2015/07/16/Pakistan-accuses-India-s-forces-of-killing-four-near-border.html