Pakistan Election 2018: ECP releases final results, PTI tops with 116 seats
Last Updated On
28 July,2018
05:22 pm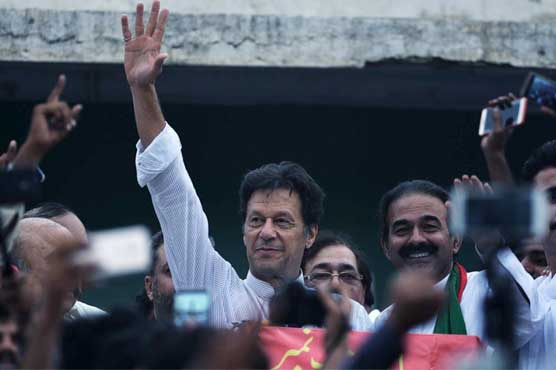 Imran Khan's PTI becomes largest party as ECP releases complete result of General Election 2018.
ISLAMABAD (Dunya News / AFP): Election Commission of Pakistan (ECP) has announced final results of all the constituencies of the national and provincial assemblies on Saturday, more than 56 hours after the conclusion of voting for the 2018 General Elections in the country.
According to an update issued by the ECP, Imran Khan's Pakistan Tehreek-i-Insaf (PTI) party has won 116 of the 270 National Assembly seats, emerging as the largest political party in the country. The PML-N grabbed 64 seats, while the PPP is in third place with 43 National Assembly seats.
Similarly, Mutahida Majlis Amal (MMA) secured 12 seats and Pakistan Muslim League (Q), Balochistan Natioanl Party, Mutahida Qaumi Movement Pakistan, and Balochistan Awami Party has secured 4, 03, 06, and 04 seat respectively.
Awami National Party (ANP) has won one seat, Awami Muslim League (AML), Pakistan Tehreek-i-Insaniyat and Jamhoori Wattan Party (JWP) have also grabbed one NA seat each.
Fourteen independent candidates have also remained successful in their constituencies. They are likely to play an important role in formation of the federal government.
PML-N AND PTI FIGHT FOR PUNJAB GOVT
In Punjab Assembly, out of received results of over 297 seats, PML-N is taking lead with 129 seats while PTI managed to secure 123 seats so far. Independents have secured 30 seats, Pakistan Muslim League (Q) secured 07, PPP 06, BAP 01, PMLF 01 and PAR won 01 seat.
PPP LEADS IN SINDH
In Sindh Assembly, out of 130 seats, PPP has secured highest 76 seats while PTI won on 23, MQMP 16, TLP 2, MMA 1 and Grand Democratic Alliance on 11 seats.
PTI DOMINATES KP
In Khyber Pakhtunkhwa Assembly, the ECP received results of 96 out of total 97 seats out of which PTI took 66 seats while MMA, ANP, PML-N, and PPP won on 10, 06, 05, and 04 seats respectively.
BAP LEADS IN BALOCHISTAN
Likewise in Balochistan assembly, Balochistan Awami Party, BNP-M and MMA have clinched majority seats. The BAP has emerged as the largest party in Balochistan with 15 provincial assembly seats, with MMA in the second place with nine.
PTI has won four, Pakhtunkhwa Milli Awami Party (PkMAP) has secured only a single seat, while PML-N also winning only one.
Jamhoori Wattan Party (JWP) of Shahzain Bugti has won a single seat while five independent candidates have also won in the province.
List of Winners - National and Pronvicial Assemblies
VOTER TURNOUT
According to the election commission of Pakistan, the voter turnout in the National Assembly elections remained 51.85 percent.
The highest voter turnout of 55.09 percent was recorded in the Punjab assembly elections followed by Sindh 48.11, Khyber Pakhtunkhwa 45.52 and Balochistan assembly 51.85 percent.
Party Wise Vote Bank - National Assembly
APC DEMANDS RE-ELECTION
Main political parties on Friday night rejected the outcome of elections won by cricket star Imran Khan and announced protests demanding new polls, after foreign observers criticised the pivotal vote over rigging allegations.
The announcement by the All Parties Conference (APC), including the outgoing Pakistan Muslim League-Nawaz (PML-N), is a fresh obstacle to power for Khan on a day when delayed results finally showed he had won an emphatic victory -- though he will need to seek a coalition to form a government.
The nationwide election held Wednesday has been criticised by the United States, the European Union and other observers after the PML-N and other parties have alleged "blatant" rigging over the vote count.
"We think a robbery has been committed," Maulana Fazalur Rehman, head of the religious Jamiat Ulema-e-Islam (JUI-F) party, told reporters.
"We will run a movement for the holding of elections again. There will be protests... We will not allow democracy to be taken hostage by the establishment," he said.
The PML-Nsaid it would join in the protests although no date was immediately announced.
"I fully agree with it. The worst kind of irregularities have been committed, which are unprecedented," party leader Shahbaz Sharif said.
However, Sharif said he would need to consult with his party's leadership over a decision by the APC not to take the oath swearing in members of parliament.
The Pakistan Peoples Party (PPP), which has won the third largest number of seats in the vote, was notably absent from the APC.
In a later press conference, PPP chairman Bilawal Bhutto Zardari said his party also rejected the election results, but vowed it would try to convince the other parties to participate in the parliamentary process.
IMRAN KHAN VICTORY SPEECH
Khan claimed victory in a wide-ranging address to the nation Thursday.
He vowed to tackle corruption and touched on promises to balance relations with the US, while saying he was open to discussions with arch-rival India, including over the disputed Himalayan territory of Kashmir.
READ: Policy statement by Imran Khan
Khan will face myriad challenges, including militant extremism, an economic crisis with speculation that Pakistan will have to seek a bailout from the International Monetary Fund, water shortages and a booming population.
https://dunyanews.tv/en/Pakistan/45...-result-2018-final-list-ECP-PTI-wins-PMLN-PPP