Zaki-ur-Rehman Lakhvi one of seven suspects being tried in connection with 2008 attacks in which 166 people died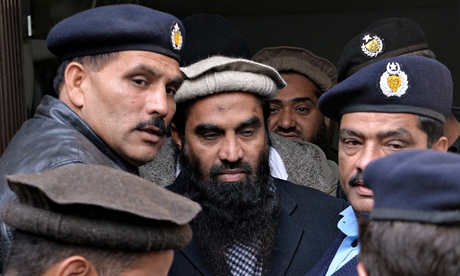 After a judge granted Lakhvi (centre) bail, there had been concerns he would be freed as early as Tuesday. Photograph: Aamir Qureshi/AFP/Getty Images​
Pakistani police have rearrested the main suspect in the 2008 Mumbai terror attacks, officials have said, quashing expectations that he might soon be freed.
Zaki-ur-Rehman Lakhvi is one of seven suspects being tried by Pakistan in connection with the attacks, which killed 166 people and seriously damaged relations between Pakistan and India.
After a judge on 18 December granted Lakhvi bail
, there had been concerns that he would be freed, possibly as early as Tuesday. But on Tuesday morning police arrested him on another case, his lawyer, Rizwan Abbasi, said.
Lakhvi appeared in court in Islamabad amid tight security. He said he accepted whatever God intended for him.
Police inspector Mohammed Arshad told the court that someone had filed a complaint at a police station on the outskirts of Islamabad saying that Lakhvi had abducted his brother-in-law to wage "jihad" six and a half years ago. The judge granted a police request for time to investigate the accusation, extending Lakhvi's detention for two days.
A lawyer for Lakhvi questioned why the complaint had only become known when it appeared that Lakhvi would be released on bail. Rizwan Abbasi called it a tactic to "deprive my client of the fundamental right of liberty".
The legal manoeuvring on Tuesday stems from the decision on 18 December by the judge in an anti-terrorism court to grant him bail, citing a lack of evidence.
That announcement was embarrassing to the government, which had vowed to crack down on militancy following the Peshawar school attack days before.
It provoked a harsh condemnation from India
, which has repeatedly said Pakistan is not doing enough in the case.
Following the bail announcement, Pakistani legal authorities tried various mechanisms to keep Lakhvi behind bars, but in a hearing on Monday a judge said that there were no grounds to prolong the detention and that the only thing standing between him and freedom was posting bail.
Pakistani television reported that senior officials met late on Monday at the interior ministry to discuss the case. Lakhvi was rearrested the following morning.
Pakistan rearrests Mumbai terror suspect | World news | The Guardian