PAKISTANI-AMERICAN SCIENTIST IS THE FIRST WOMAN TO BE DEAN OF MIT'S SCHOOL OF SCIENCE
Nergis Mavalvala shot to fame with her lead role in the detection of gravitational waves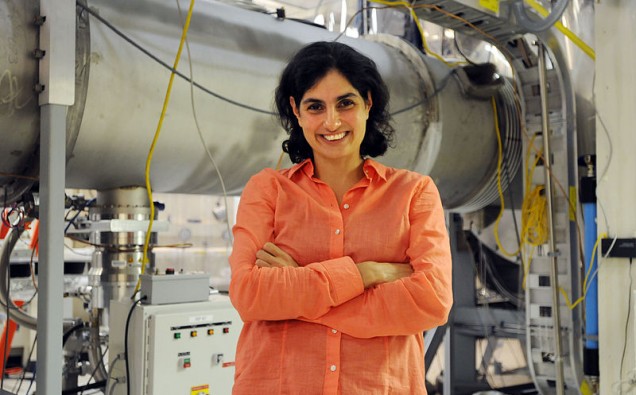 Nergis Mavalvala
, a famed Pakistani-American astrophysicist, will be the new dean of the
School of Science
at the prestigious Massachusetts Institute of Technology from next month.
She will be the first woman to serve as dean of the School of Science since it was established in 1932.
Nergis, who was born in Lahore and received her A-level qualifications in Karachi, hit headlines for her lead role in the detection of gravitational-waves five years ago, becoming an inspiring figure for the young generation of the country with her achievement. Her achievements have also made
Nergis as a celebrated story of immigrant success.
Views and News were among the first few media outlets that reported detailed stories about her singular contributions to the discovery of the gravitational-waves.
She will spearhead the MIT's School of Science from September 1, culminating an illustrious career as dean of the school that has produced 14 Nobel Prize-winning alumni. Twelve faculty members of the school are Nobel Prize recipients, according to the information posted by Wikipedia. The school has six academic departments that award Ph.D. and ScD degrees.
"Nergis's brilliance as a researcher and educator speaks eloquently for itself," MIT President L. Rafael Reif said, of her elevation to the leadership position, according to
MIT News.
"What excites me equally about her appointment as dean are the qualities I have seen in her as a leader: She is a deft, collaborative problem-solver, a wise and generous colleague, an incomparable mentor, and a champion for inclusive excellence. As we prepare for the start of this most unusual academic year, it gives me great comfort to know that the School of Science will remain in such capable hands."
Nergis, who came to the United States after studying in Karachi in 1986, was a member of the path-breaking team of scientists, conducting research with the Laser Interferometer Gravitational-Wave Observatory.
A recipient of several coveted awards, Nergis has been the associate head of the Department of Physics since 2015. Serving currently as the Curtis and Kathleen Marble Professor of Astrophysics, Nergis Mavalvala will succeed Michael Sipser, who will return to the faculty as the Donner Professor of Mathematics, after six years of service, the MIT News said
Nergis Mavalvala, a famed Pakistani-American astrophysicist, will be the new dean of the School of Science at the prestigious Massachusetts Institute of Technology from next month. She will be the ...

www.viewsnews.net