Pakistani crew blow up fishing boat after chase by Indian navy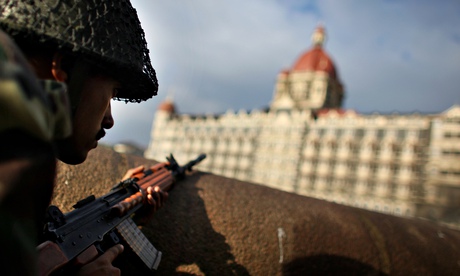 Aftermath of the Mumbai siege in 2008. The boat incident has evoked memories of the attacks, when Pakistani militants managed to sneak into the city by sea. Photograph: Uriel Sinai/Getty Images
The crew of a Pakistani fishing boat blew up and sank their vessel after trying to evade capture at the hands of the Indian navy in a high-speed chase at sea, officials have said.
All four people on board the vessel from near the Pakistani port city of Karachi are believed to have been killed in the dramatic episode in the Arabian Sea on New Year's Eve, India's defence ministry said on Friday.
Indian coastguard ships and aircraft tried to intercept the boat near the maritime border with Pakistan, around 225 miles from the coastal state of Gujarat, following an intelligence tipoff.
"However, the boat increased speed and tried to escape away from the Indian side of maritime boundary. The hot pursuit continued for nearly one hour," a defence ministry statement added.
Although the boat did eventually stop after warning shots were fired, the four-man crew then hid themselves below deck before setting the boat on fire, which triggered a large explosion.
"Due to darkness, bad weather and strong winds, the boat and persons on board could not be saved or recovered. The boat burnt and sank in the same position, in early hours of 1 January," said the statement.
Although the defence ministry would only say that the crew were planning "some illicit transaction", it also stated that the boat was carrying explosives.
The incident has evoked memories of the 2008 Mumbai attacks, when Pakistani militants managed to sneak into India's financial capital by sea and then began a 60-hour siege of the city that left 166 people dead.
India reacted furiously last month to a Pakistani court's decision to grant bail to the alleged mastermind of the Mumbai attacks, although he has since been detained again. India's ruling BJP termed the latest incident a "possible terror operation".
"The coastguard has foiled attempts of a suspected terror boat that was actually spotted near the Indo-Pak maritime border," the BJP spokesman, GVL Narasimha Rao, told the NDTV news channel. "Possibly this was yet another attempt to sneak terrorists into the Indian territory."
The Indian coastguard ruled out the explosion being an accident, saying the men on the boat sped away because they were hiding "something really serious".
"If they weren't doing anything wrong, then they had no reason to run, to set the boat on fire. Why would anyone set (themselves) on fire?" said KR Nautiyal, the deputy inspector general of the Indian coastguard.
Pakistani crew blow up fishing boat after chase by Indian navy | World news | The Guardian