Palestinians to seek U.N. resolution Wednesday on occupation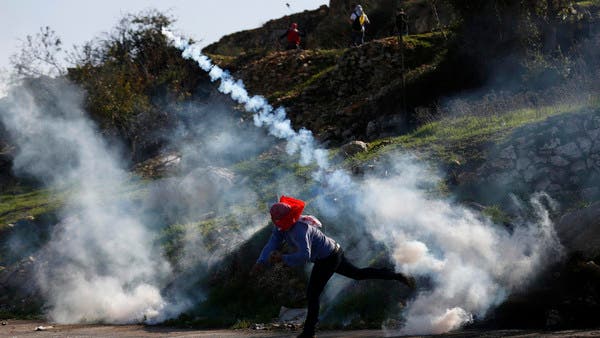 A Palestinian protester throws back a tear gas canister fired by Israeli troops during clashes near Israel's Ofer Prison, near the West Bank city of Ramallah December 13, 2014. (Reuters)
​
The Palestinians are to present a draft resolution to the United Nations Security Council Wednesday that would set a two-year deadline for Israel to end its occupation, an official said.
"The Palestinian leadership took a decision to go to the Security Council next Wednesday to vote on their project to end the occupation," senior Palestine Liberation Organisation member Wassel Abu Yussef told AFP Sunday after a meeting in Ramallah.
The Israeli foreign ministry declined to comment ahead of Monday's meeting in Rome between Israeli Prime Minister Benjamin Netanyahu and U.S. Secretary of State John Kerry.
Kerry arrived in Italy Sunday amid a European-led drive to push moves towards Palestinian statehood, with US officials saying he sought to learn more about the European position.
Snap elections
After Netanyahu called snap elections for March, some Europeans have pointed to a narrow window of opportunity to push a Palestinian resolution at the Security Council.
In the past the United States has consistently used its U.N. veto power to block moves it sees as anti-Israel, but U.S. officials said they drew a distinction between a unilateral step, and an effort to draw up a multilateral resolution at the U.N. Security Council, which would have the backing of many nations.
Kerry will fly to London on Tuesday to meet chief Palestinian negotiator Saeb Erakat and Arab League chief Nabil al-Arabi.
Jordan last month circulated a draft Palestinian text setting November 2016 as a deadline for the end of the Israeli occupation.
But the text ran into opposition from the United States because it set a two-year timetable for the withdrawal of the Israeli army from the West Bank.
Netanyahu on Sunday rejected all talk of withdrawing from east Jerusalem and the West Bank within two years.
Pulling out now would bring "Islamic extremists to the suburbs of Tel Aviv and to the heart of Jerusalem," he said.
http://english.alarabiya.net/en/New...k-U-N-resolution-Wednesday-on-occupation.html