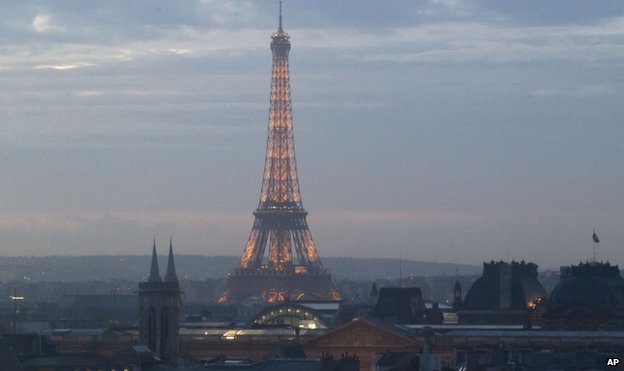 The Eiffel Tower was among several landmarks buzzed by drones in the French capital
Drones have been seen flying over several sensitive landmarks in Paris in a night-time mystery that French police say is being taken seriously.
At least five of the unmanned aerial machines were spotted between midnight on Monday and 0600 on Tuesday, and none of the operators has been caught.
The first appeared over the US embassy and there were later sightings near the Eiffel Tower and Place de la Concorde.
French police believe the drone flights could be linked.
Small drones are easy to buy but their appearance in recent months over sensitive locations has worried French authorities.
Last month a drone was seen over the Elysee Palace, home of President Francois Hollande, and in October a series of nuclear plants was targeted across the country.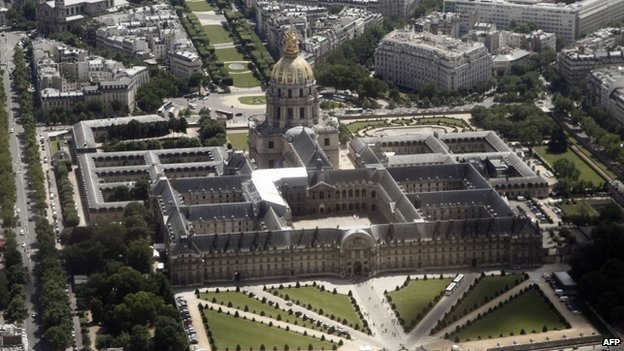 The Invalides military museum was among the Paris landmarks that the drones flew over
An inquiry has begun into the drone flight over the US embassy, a short distance from Place de la Concorde. The Invalides military museum and the Bastille monument were also buzzed, reports said.
Flights over central Paris are banned below 6,000m (19,700ft) without authorisation and the drone was spotted some 100-300m above the US embassy, French media say.
"We did all we could to try to catch the operators but they weren't found," a police source told AFP news agency.
Drones are capable of providing high-quality aerial film. It is unclear whether they were being used maliciously or simply by enthusiasts.
Analysts say the authorities are more likely to be concerned that a member of the public could be hit by a drone than by any threat to security.
BBC News - Paris landmarks targeted in French night drone mystery