Pentagon Wants More Work on JSTARS
(Joint Surveillance Target Attack Radar System)
By
Lara Seligman
2:32 p.m. EST November 20, 2015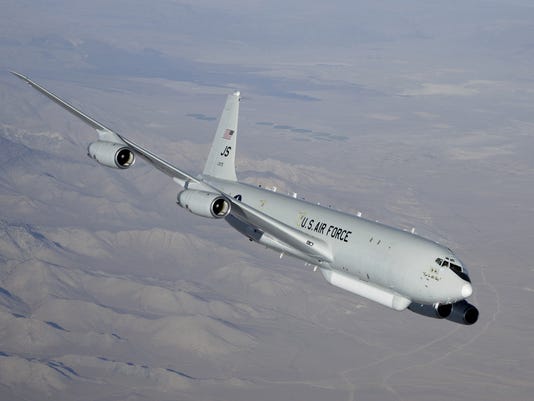 WASHINGTON — In a recent meeting, the Pentagon's acquisition chief once again asked for more work on the Air Force's effort to recapitalize its Joint Surveillance Target Attack Radar System fleet before authorizing the program to move to the next phase of the acquisition cycle.
Frank Kendall, the Pentagon's undersecretary of defense for acquisition held a meeting in early November to evaluate progress on JSTARS, an Air Force official told Defense News. The meeting was a follow-up to a formal Sept. 18 Defense Acquisition Board review of the program, during which Kendall unexpectedly denied JSTARS approval to move into the technology maturation and risk reduction phase known as Milestone A.
During the meeting earlier this month, Kendall again sent the Air Force and industry partners back to complete additional work on the program, according to Air Force and industry sources.
"They've had two briefings with Dr. Kendall," Rod Meranda, Boeing's business development lead for JSTARS, told Defense News on Wednesday. "That's the whole point of a Milestone A – 'Do I have a capability out there to go ahead and sign off and do that?' So that's back on the industry to go ahead and prove that we have some capability."
One industry source said the informal November meeting was "more like a rudder check" with Kendall than a formal DAB review.
The Air Force anticipates Kendall will formally review the program again in about three weeks, according to the service official. That meeting is expected to result in a Milestone A decision, which would authorize additional contract money for system and platform demonstrations.
During a successful Milestone A review, the Pentagon weighs a program's acquisition strategy and decides on the best path forward.
The Air Force officially kicked off the competition to replace its aging E-8 JSTARS in early August, awarding a trio of competitors each a pre-engineering and manufacturing development contract, for a total of $31.4 million. Northrop Grumman, which builds the existing aircraft, is teamed with Gulfstream and its G550 business jet, with L-3 helping with integration. Lockheed Martin is working with Bombardier on a proposal based on the Canadian company's Global 6000 business jet. Meanwhile, Boeing is offering a modified version of its 737-700 commercial airliner.
The Air Force is expected to release a request for proposal (RFP) for the development contracts within the next two years. Industry expects a downselect for the full EMD award in the summer or early fall of 2017. The Air Force had initially planned to declare initial operational capability for JSTARS in fiscal 2022, but the latest budget proposal delayed that date to fiscal 2023.
The existing E-8 JSTARS is expected to retire starting in 2019.
Despite a sense of urgency to recapitalize the ground surveillance fleet, outgoing Air Force acquisition chief William LaPlante has said budget uncertainty may force the service to cancel the program altogether.
"There is still a possibility given the budget that JSTARS may not happen," LaPlante said in October. "It's a budget issue, so it depends on the sequester and where the priorities are in the department," he said. "It might not happen at all."
Pentagon Wants More Work on JSTARS