Pictured in army fatigues and waving a pistol: The terrorist who met Jeremy Corbyn 'many times' who has been jailed for 5 years after being caught with weapons manuals
Abdul Raoof Al Shayeb, 51, claimed to be human rights activist for Bahrain
Police found memory card loaded with jihadi exam papers and military files
Al Shayeb said to have met Mr Corbyn many times, including in Parliament
Judge says material meant he could have caused 'death and destruction'
By
Martin Robinson for MailOnline
Published: 15:23 GMT, 17 December 2015 | Updated: 20:06 GMT, 17 December 2015
Wearing military fatigues and waving a gun in the air, this is the terrorist who met
Jeremy Corbyn
'many times' jailed for five years today.
Abdul Raoof Al Shayeb, 51, met the Labour leader in Parliament and posed with him at political rallies against the government in his native Bahrain.
Al Shayeb, who worked at Great Ormond Street Children's Hospital as a patient advocate, also considered himself a human rights campaigner but hid a secret life as an extremist.
When police raided his home they found a 16GB memory card loaded with jihadi exam papers and military files entitled 'bombs', 'missiles' and 'destruction'.
As he was jailed today a sniper rifle presentation and bomb-making instructions in his possession can be published for the first time.
Terrorist: Abdul Raoof Al Shayeb, 51, pictured in US Army uniform in Iraq waving a Beretta 92 pistol - he was jailed for five years today. He claimed the US fatigues were used as a disguise, not because he served in the armed forces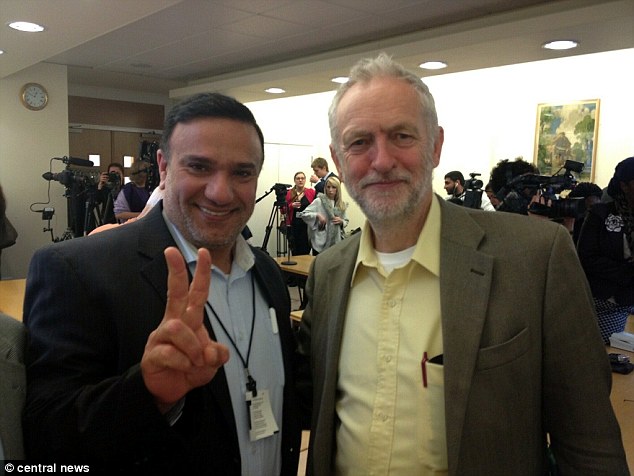 A terrorist who met Jeremy Corbyn was jailed after he was caught with a sniper rifle presentation and bomb-making instructions. Abdul Raoof Al Shayeb is pictured with the Labour leader at the House of Lords
Al Shayeb was convicted yesterday of possessing records of a kind likely to be useful to a person committing or preparing an act of terrorism after a nine day trial at Southwark Crown Court.
Judge Martyn Zeidman, QC, had told Al Shayeb: 'The material on your memory card was dynamite. Misuse of that material could have given rise to the deaths of many people.'
On his political ambitions the judge told him: 'You have talked the talk of peace but, in my judgement, it is a disguise.
'How shocked would be your many supporters if they had seen, as we have seen, the vile material on your memory card.
'You pretend to hate violence but we have seen the photograph of you dressed in military uniform, holding two guns. It was taken in Iraq and shows you in a shocking and worrying light.
'Death and destruction could have been caused to vast numbers of innocent people.
'The message has to be clear - possession of terrorist material will be punished severely.'
They also found photos of Al Shayeb in combat fatigues along with a PowerPoint presentation displaying instructions about the assembly, calibration and best shooting positions for a Draganov rifle.
The files contained information that someone might want 'if planning to bring down a regime by stealth, force and terror tactics', the court was told.
The court heard how the material - said to be the antithesis of what Al Shayeb spent 30 years fighting for - was found at his home in Maida Vale in April last year.
The defendant claimed he did not know what was on the files, insisting he had only seen a more simple presentation on the rifle, which informed a person how to defend themselves against the weapon.
But prosecutor Max Hill told the court: 'For whatever reason, and against the backdrop of whatever other interests he had at the time, Mr Al Shayeb knew about the content of these military files.
'There is no innocent explanation for their presence amongst his belongings.'
He added that the information found at Al Shayeb's home would 'undoubtedly provide practical assistance' to those looking to 'bring about regime change'.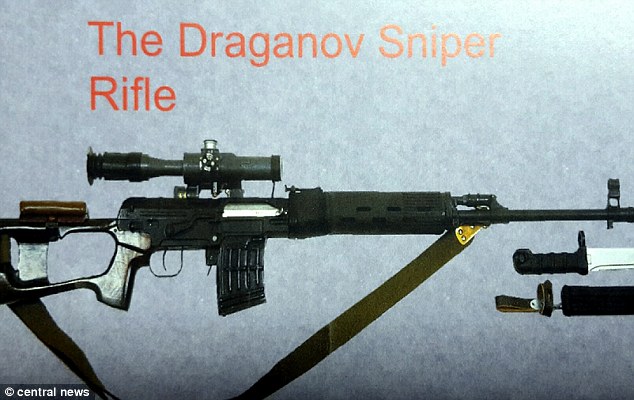 Evidence: Al Sheyeb had instructions for using weapons, including this manual on how to use a sniper rifle and knives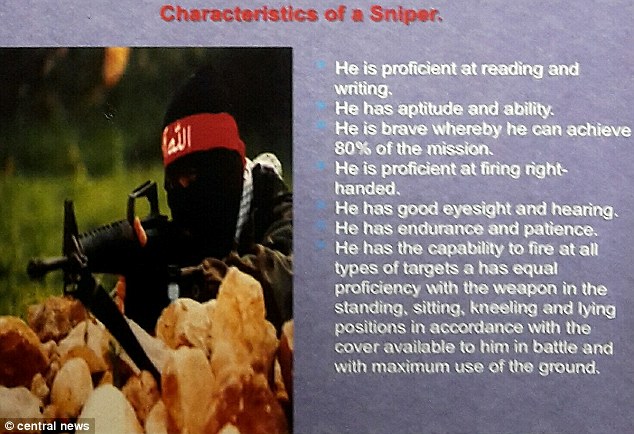 Instructions: He had manuals on how to make bombs and also how to kill people with guns - material that could cause 'death and destruction', the judge said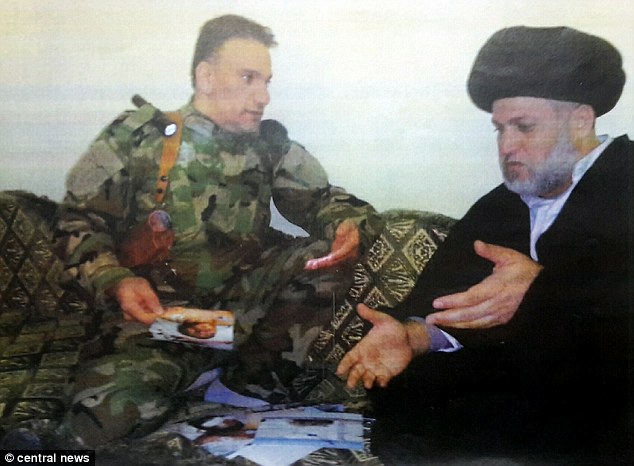 Abdul Raoof Al Shayeb, in US army uniform and discussing politics with Shia cleric Hazem Al-Araji in Iraq in 2011
The court heard he had also been stopped on arrival into Gatwick airport from Baghdad four months earlier in possession of a 2GB memory card containing identical information.
During the trial, Al Shayeb, who works at Great Ormond Street Children's Hospital as a patient advocate, claimed he had met with Mr Corbyn several times.
The jury was shown pictures of Al Shayeb outside the United Nations headquarters in Geneva as well as posing with the party leader.
'Many times I have seen Jeremy Corbyn in the Houses of Parliament and also outside in many conferences that have been held by the Bahraini opposition,' he told the court.
Al Shayeb described how the meetings with Mr Corbyn were held in support of 'human rights everywhere' but 'especially about Bahrain'.
The court heard he also went to the home of Lord Eric Avebury, Vice Chair of the Parliamentary Human Rights Group.
In a reference read out to the court, Lord Avebury said: 'I met Abdul Raoof Al Shayeb when I visited Bahrain in 2002 and since then he has attended seminars on human rights in Bahrain which I have chaired regularly, twice a year, as spokesperson for the National Committee for Martyrs and Victims of Torture.
'He has also been my guest at meetings on Bahrain at my home in Camberwell.'
Kerim Fuad QC, representing Al Shayeb, told the court earlier that Al Shayeb had been repeatedly imprisoned and tortured because of his protests.
He described him as being 'a thorn in the side' of the Bahraini state and said he was targeted for trying to overthrow the ruling regime.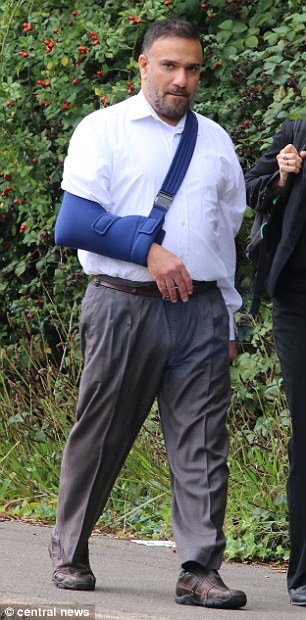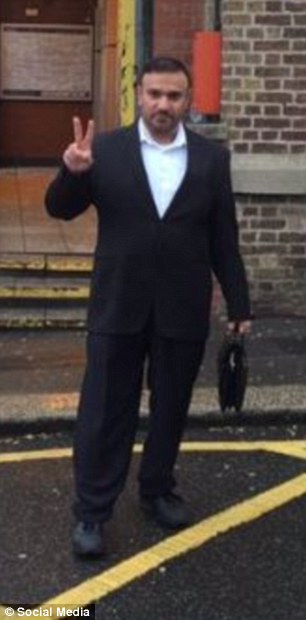 Abdul Raoof Al Shayeb, 51 (pictured left outside Snaresbrook Crown Court and right), was said to be a human rights crusader but police found files loaded with military files and jihadi exam papers in his flat
'You will hear why the Bahraini state despises this man for standing up to them so defiantly and so strongly,' said Mr Fuad.
He added: 'If you cut him he bleeds human rights.'
The jury heard from a number of character witnesses comprised of former Bahraini MPs and other dissidents who have had their citizenships revoked after speaking out against the regime.
'I would not be surprised [if he had those documents] because as I told you all the human rights activists have presented in Parliament some of the weapons which are being sold to Bahrain and we will see those in my PowerPoint and also on YouTube,' said Jalal Fairooz.
The former MP added that it was 'normal' to presume any activist to be in possession of such information but told the jury he had never seen Al Shayeb with any of it.
Al Shayeb, from Maida Vale, denied a single count of possessing records of a kind likely to be useful to a person committing or preparing an act of terrorism but was convicted by the jury.
He showed no emotion as the verdict was read out at Snaresbrook Crown Court, but flashed the 'peace' sign at friends in the public gallery.
Al Shayeb's son gave evidence at the trial stating that he helped his father transfer files between old flash discs and new ones at an internet café on the Edgware Road.
Abdul Raoof Al Shayeb who visited Jeremy Corbyn in Parliament is pictured | Daily Mail Online