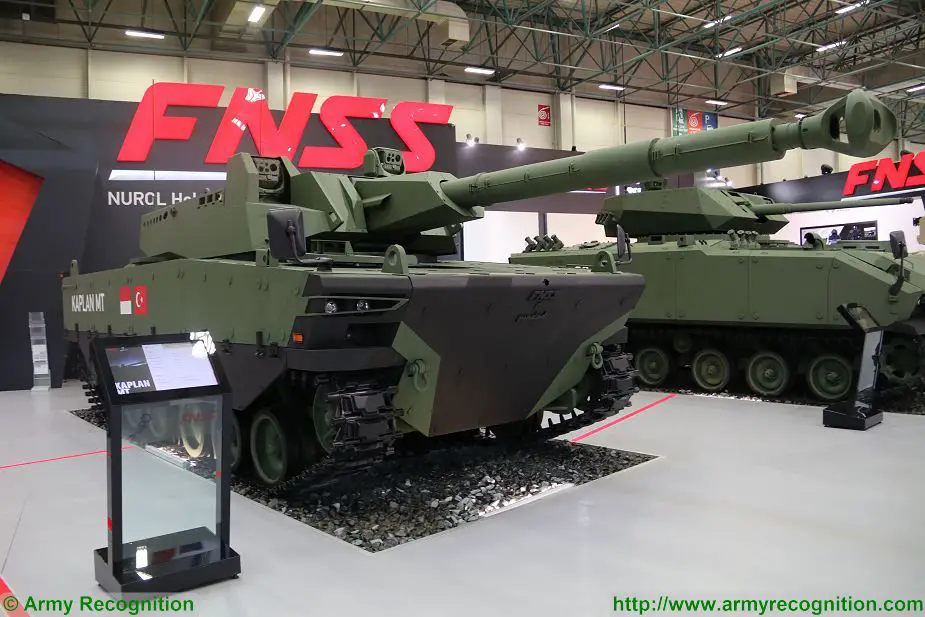 The
Modern Medium Weight Tank
, also known as the
MMWT
, is a collaborative tank program between Turkish manufacturer
FNSS
and Indonesian manufacturer
PT Pindad
. Temporary names for this tank includes Kaplan MT (Turkey), Harimau Hitam/Black Tiger (Indonesia). The tank also appears at the Indonesian military parade 2017.
History
The governments of Indonesia and Turkey first agreed in May 2015 to jointly develop the MMWT for the Indonesian Army at a reported cost of 30 million US dollars.The development phase of the program was expected to take up to 37 months, with the first prototype being built in Turkey, and the second in Indonesia. The intellectual property of the design was agreed upon to be shared between the two governments.
On 1 November 2016, during the 2016 Indo Defence expo, the first model of the tank was unveiled, along with some technical specifications.Most notably, the vehicles overall weight was reported to be around 35 tonnes, and the main armament would be provided by a Belgian-made turret developed by
CMI Defence
featuring a 105mm rifled barrel, capable of firing a wide range of projectiles.
On IDEF 2017 (9 May 2017), the first prototype of the tank is revealed. The tank can be fitted with either Cockerill XC-8 105mm concept turret or Cockerill 3105 modular turret. Also, the tank uses modular armor so it can be replaced quickly when damaged.

Total weight: 35 tonnes
Top speed: 70 km/h
Engine power: 700 hp
Transmission: Fully automatic
Cruising range: 450 km
Power-to-weight ratio: 20 hp/tonne
Barrel caliber: 105mm, rifled
Secondary guns: 7.62mm machine guns
Gradient: 60%
Side slope: 30%
Obstacle climbing: 0.9 m
rmament
The FNSS Modern Medium Weight Tank (MMWT) or Kaplan MT is fitted with a two-man turret armed with a standard NATO 105mm rifled gun which can fire both AP (Armour Piercing) and HE (High Explosive) ammunitions. According FNSS CEO, the MMWT is fitted with the CT-CV weapon station designed and manufactured by the Belgian Company CMI Defence that incorporates an automatic loading system which contains 16 rounds in standard configuration and 12 rounds in air-deployable configuration. The 105mm gun has a maximum firing range of 4 km. Second armament includes one 7.62mm coaxial machine gun mounted to the left side of the main armament. the top of the turret can be fitted a 7.62mm or 12.7mm machine gun for self-protection of the vehicle or to be used against aerial targets. A bank of four smoke grenade dischargers is mounted on each side at the front of the turret.
Design and protection
The layout of the FNSS Modern Medium Weight Tank (MMWT) or Kaplan MT is similar to a standard MBT (Main Battle Tank) with the driver seat at the front center of the hull, turret in the centre with commander and gunner and powerpack at the rear. Interior of the vehicle is engineered carefully considering ergonomics of crew and different tactical and battlefield conditions including driving, firing and ammunition load and unload. The MMWT has a weight from 32,000 to 35,000 kg depending on the armour configuration. Special type of driver seat enables operator to have adequate field of view with accessibility to all cabin equipment. According FNSS CEO, the MMWT provides ballistic and mine protection Level 4 (STANAG 4569) firing of small arms 14.5 mm AP caliber on 360°, 155mm shell splinter at 30 m and mine explosion of 10 kg TNT under the track and the floor. It can be fitted with add-on armour to increase protection to Level 5 (STANAG 4569) protection against 25mm APDS-T (Armor Piercing Discarding Sabot - Tracer) ammunition.
Mobility
The FNSS Modern Medium Weight Tank (MMWT) or Kaplan MT is motorized with a Diesel engine coupled with a fully automatic electronic controlled transmission, which results in a minimum of 20hp/ton ratio, depending on the configurable protection system. The cooling pack is cooled by an intelligent software driven hydraulic fan for optimum torque extraction and fuel economy, and two separate fuel tanks provide a minimum operating range of 450 km. The MMWT can run at a maximum road speed of 70 km/h. The torsion bar suspension consists on each side of six dual rubber-tyred road wheels with the drive sprocket at the front, the idler at the rear and track-return rollers. The MMWT can negotiate a gradient of 60% and side slopes of 30%. It can climb a vertical obstacle of 0.9 m and cross a trench of 2 m maximum. It can ford to a depth of 1.2 m without preparation.
Accessories
Standard equipment of the FNSS Modern Medium Weight Tank (MMWT) or Kaplan MT includes wireless crew intercom system, navigation system, BMS (Battlefield Management system), laser warning system, CBRN protection system, and automatic fire extinguishing system. An auxiliary power unit enables turret operation when vehicle engine is not running by charging battery system. Advanced battery monitoring system is also equipped for optimum power management and silent Watch capabilities. The sighting system for both the gunner and the commander consists in two identical displays, one for day vision and the other one for night vision. A panoramic sight gives the commander observation and hunter killer capabilities.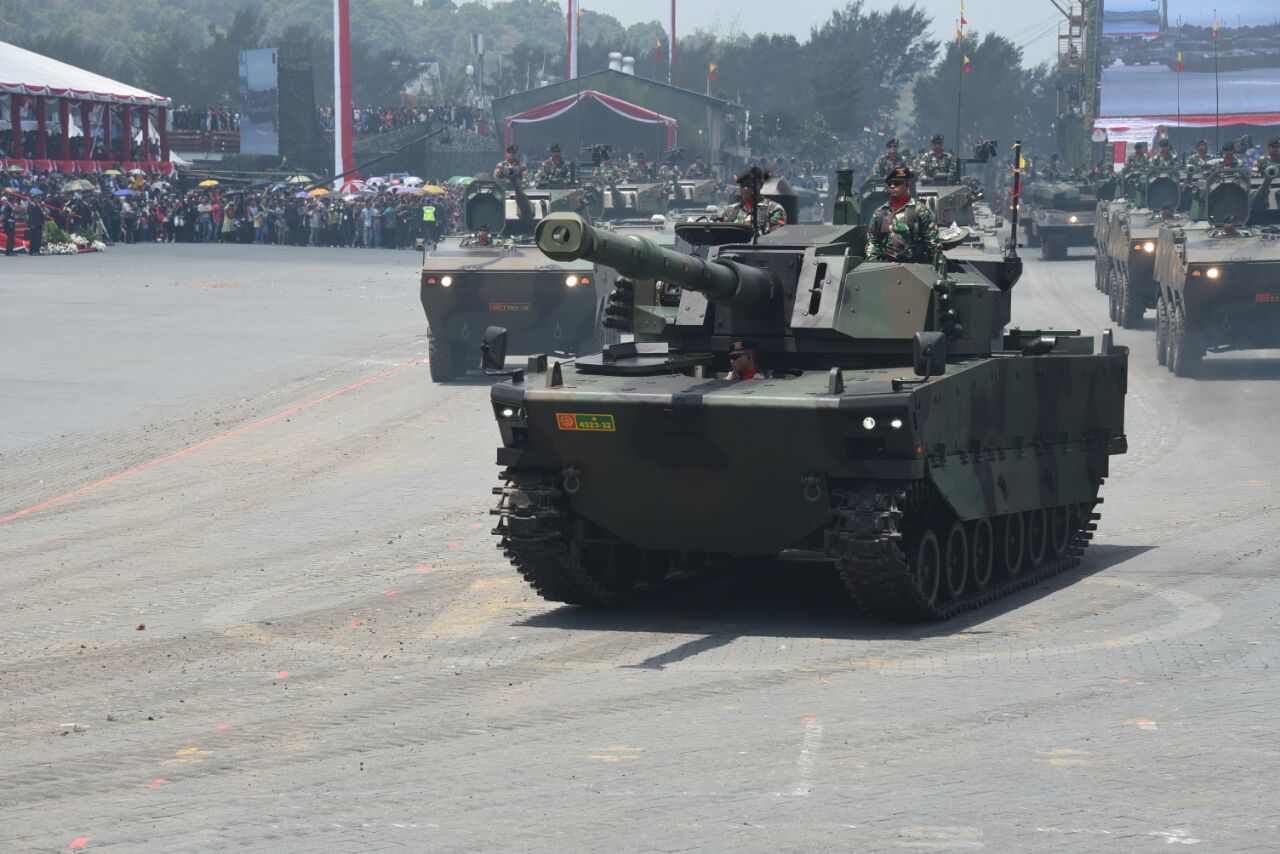 Last edited: