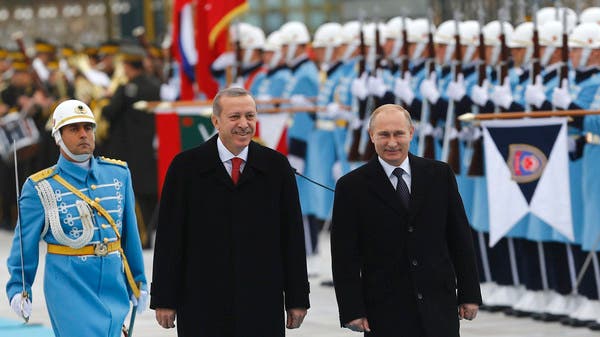 Russia's President Vladimir Putin (R) and Turkey's President Tayyip Erdogan review a guard of honour during a welcoming ceremony at the Presidential Palace in Ankara. (File photo: Reuters)
Russian President Vladimir Putin on Thursday praised his Turkish counterpart as a "tough man" for not being intimidated by the West after accepting a decision to replace a gas pipeline with a route through Turkey, adding that "Russian bear" cannot be "defanged."
"I had no doubt [about Europe's reaction]. I told Erdogan, 'Maybe we shall keep the deal we reached a secret for now, not disclose it. Let's not anger the Europeans. But Erdoğan is tough guy and he explained to me that we had not stolen anyone's possession and hiding it was unnecessary," Hurriyet Daily News quoted Putin as saying during his annual end-of-the year news conference on Dec. 18.
In his first public appearance since the crash of the ruble's value this week, the confident-looking Putin accepted responsibility for the economic crisis after the EU advanced measures to choke Russia economically.
On Thursday, the European Union banned investment in Crimea, halting European help for Russian Black Sea oil and gas exploration and outlawing European cruise ships from calling at Crimean ports.
The new measures, which EU governments have signed off on and will take effect on Saturday, reinforce the EU's policy of not recognizing Moscow's annexation of Ukraine's Crimea region in March.
Putin surprised European countries during a visit to Ankara on Dec. 1, when he announced that Moscow was scrapping the South Stream gas pipeline that was set to pass through Bulgaria. Bulgaria also reluctantly stopped working on the giant Russian-led gas pipeline project after pressure from the United States and Brussels.
'West cannot defang Russian bear'
Sternly warning the West it cannot defang the metaphorical Russian bear, Putin promised to shore up the plummeting ruble and revive the economy within two years, the Associated Press reported.
While he issued a litany of sharp rebukes against the West, Putin struck a conciliatory note on Ukraine, saying that the rebellious east should remain part of the country, backing a quick exchange of war prisoners and praising his Ukrainian counterpart.
The mixture of blistering anti-Western rhetoric and constructive signals appeared to indicate that Putin is eager to negotiate a face-saving solution to the Ukrainian crisis, but has no intention of conceding defeat in his standoff with the West.
He said Western sanctions accounted for at least 25 percent of the ruble's fall, but the main reason was Russia's failure to ease its overwhelming dependence on oil and gas exports.
Following Putin's performance, the Russian currency traded between 60 and 62 rubles to the dollar, roughly the same level as late Wednesday, when it rallied 12 percent after plummeting to a historic low of 80 rubles per dollar. The currency has lost about half its value since January.
(With Reuters and Associated Press)
http://english.alarabiya.net/en/New...n-hails-tough-man-Erdogan-for-defying-EU.html