By Andrew Chuter 11:46 a.m. EDT July 24, 2015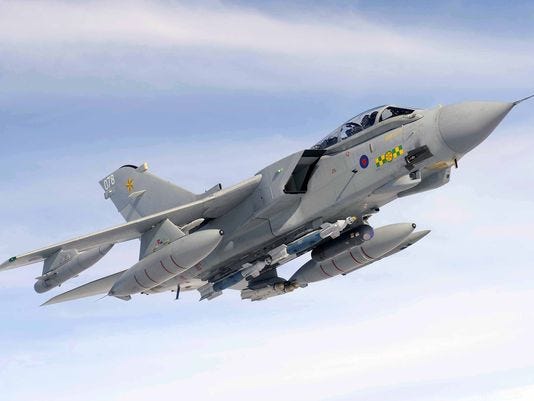 (Photo: SAC Scott Ferguson/CROWN COPYRIGHT)
LONDON — The Royal Air Force is replenishing stocks of Raytheon Paveway IV's with a new order for the precision guided bombs, defense Procurement Minister Philip Dunne has revealed in response to a parliamentary question.
An order for additional stocks of the 500-pound bombs was signed in June, Dunne said in a written statement.
The order, worth up to £50 million, will top up RAF stocks run down by the continuing campaign against Islamic State militants in Iraq.
The weapon is deployed on strike missions mounted by eight Tornado strike jets operating out of the British air force base at Atkrotiri, Cyprus.
Weapon deliveries from this latest order are expected to be completed by March 2016.
Raytheon UK declined to comment.
Paveway IV is assembled by Raytheon in the US although a substantial number of weapon components are sourced from British suppliers.
The weapon's wide use in Afghanistan and Libya, followed now by nearly 12 months of missions against Islamic State, has resulted in Raytheon receiving several top up orders from the British since it entered service with the RAF in 2008.
The company also secured its first export contract last year in a deal with Saudi Arabia reckoned to be worth around £150 million.
Defense News recently reported that some Paveway IV bombs earmarked for delivery to the RAF were diverted from the production line in Tucson, Arizona, to the Saudi air force for use on Tornado and Typhoon jets involved in missions against Houthi rebels in Yemen and Islamic State in Syria.
RAF Boosts Precision Guided Bomb Stocks With Paveway IV Deal