THE ROYAL Air Force has mounted its biggest air defence exercise over British skies in thirty years after a series of Russian nuclear bomber flights near UK skies.
By
Marco Giannangeli
PUBLISHED: 00:01, Sun, Mar 29, 2015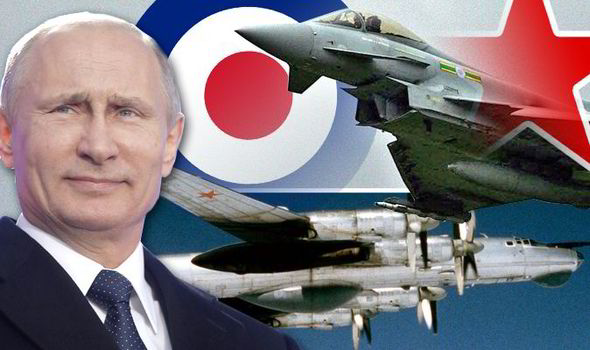 The RAF took part in mock attack wargames as a show of strength to Putin
Operation Rising Panther, the first of six proposed air defence operations due to take place every year, will "show Vladimir Putin in no uncertain terms" that Britain is ready, willing and able counter increasing Russian aggression should the need arise, say military sources.
More than 30 aircraft, including 20 Typhoons and Tornado fighter jets as well as a range of ED-3, AWACS, Sentinal and Shadow surveillance aircraft took part in the mock attack-and-defence wargames over the North east of England, as well as ground-based command teams.
In February the Sunday Express revealed how one of the two Russian T-95 "Bear" long-range bombers intercepted by RAF Typhoons over the English Channel was carrying a nuclear missile designed to destroy a Trident submarine.
President Putin, who has recently increased Russian defence spending by a record 33 per cent, authorises around eight Russian incursions into UK air space or Britain's "sphere of influence" every year. More than 100 were known to have encroached European airspace in 2013 alone.
The Ministry of Defence played down Rising Panther's significance, maintaining that it was merely the first opportunity since the end of hostilities in Afghanistan to hold an air exercise of this scale.
"Due to our continuing commitment to operations overseas, this is the first time we have had the full spectrum of our capability operating together at the same time in a realistic, opposed, environment," said Wing Commander Andy Coe in the Ministry of Defence-run RAF News.
He added that this was the first time that the RAF had used AWACS and Sentinel together because they have been "in such high demand" in theatres abroad.
Sources said that the scenario played in last week's wargames were designed to test the offensive capabilities of Tornado pilots which were intercepted by Typhoon fighters from Coningsby, Lincs and Lossiemouth, Scotland as they approached the East coast from Norway.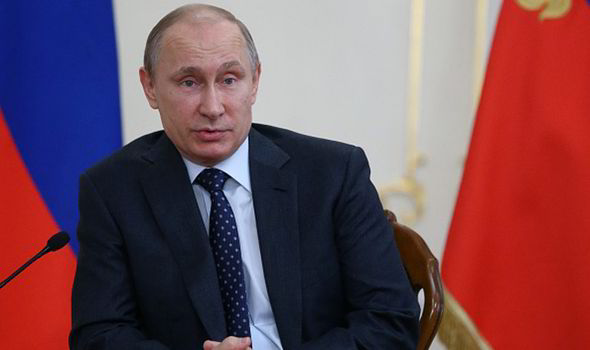 Putin has increased Russian defence spending to a record 33 per cent
However last night senior military insiders told the Sunday Express that the timing of the newly-launched wargames were "apt" as a show of force to President Putin, and would act as a show of strength to military mandarins ahead of the next Strategic Defence Review.
Speaking to the Sunday Express, one senior RAF source said: "Russia has certainly painted the background to these exercises, though of course they are needed in any event.
"I think there's a view forward to the next SDR and the need to remind the powers that be about the prominence of air defence.
"The feeling is that, just because we haven't had a large headline concerning Russian nuclear bombers recently doesn't mean air defence isn't important, and look at how seriously we're taking it."
While the RAF does take part in larger multinational exercises such as "Red Flag" in the USA, Rising Panther was said to be the biggest UK-only air defence exercise in decades.
Justin Bronk, of defence think-tank RUSI, said: "Given the tensions with Russia and Vladimir Putin's well-known predilections for using nuclear bombers and other military aircraft to probe UK airspace, air defence really is assuming an importance that it has not since the days of the Cold War."
Last night Air Commodore Andrew Lambert, of the UK National Defence Association, said: "It is good to see the RAF getting back to form in this total way. It's one thing dropping laser-guided bombs at 30,000 feet, as we did in Afghanistan, but another thing altogether to test your full operational capabilities, particularly at a time of increasing Russian aggression. "
A spokesman for the Ministry of Defence said: "Exercise Rising Panther is part of a series of regular, post-Afghanistan exercises which allows the RAF to test ground attack Tornados against air defence Typhoons to improve general war-fighting capability."
RAF conduct massive air defence exercise in show of defiance to Russian bombers | UK | News | Daily Express