Next Gen Jammer Passes First Airborne Tests: Raytheon
WASHINGTON: Raytheon's Next Generation Jammer underwent its first test flights at the Naval Air Weapons Station China Lake as the electronic warfare association's annual conference got underway in October.
The tests were performed to judge whether the system could successfully jam and disrupt enemy threat radars.
This marks the first tests of the pod itself, the AESA radar, power sources and the other subsystems. The pod, as you can see in the photo, is mounted on a civilian jet rigged with test equipment. The test were held eight months after contract award.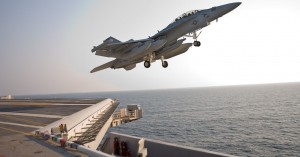 The Navy's new EA-18G Growler electronic warfare aircraft during sea trials.
Test flights are crucial for jammers as vibrations and their surroundings can affect their ability to function.
How did they do? Let me offer this caveat first — the great majority of what goes on in the new jammer is classified so we're never going to be able to tell you very much about it. But Raytheon did go to some lengths to make this test public, so here's what they said.
"The combination of jamming techniques, beam agility, array-transmit power and jammer management were very effective against the threat systems and all test objectives were met or exceeded," Travis Slocumb, vice president of Electronic Warfare Systems at Raytheon's Space and Airborne Systems business, said in a very carefully worded statement.
"The advanced, first of its kind system consisted of an active electronically scanned array (AESA), an all-digital, open, scalable receiver and techniques generator and a self-powered pod mounted on the underside of a Gulfsteam business jet," Slocumb said.
One of the most interesting tidbits in that release are the mentions of agility and power. The current Growler jammers are very high-powered and, as the former head of Air Combat Command told me in an October interview, the Growler actually blankets its targets and would interfere with the F-35′s more nimble electronic warfare and cyber capabilities.
The tests occurred almost on schedule. Rick Yuse, head of the program at Raytheon, told me just before the Farnborough Air Show that flight testing would occur in September. The flight tests began on Oct. 7, so we'll give it to him.
The program has been on track pretty much since Raytheon retained the program even after a successful protest by BAE Systems. During our air show interview Yuse attributed much of the program's success so far to the fact that Raytheon "had a plan to do a lot of risk reduction very early in the contract." Virtually all of the technology sits at or above Technology Readiness Level (TRL) 6, which is generally just below production-ready and appropriate for subsystem development. It is those subsystems that are getting tested now.
The tests should give Raytheon and the Navy a better idea of just how well the new power modules work in flight, as well as how effectively the AESA radar focuses its energy. And, as Travis noted in his statement, the core of the NGJ can be used elsewhere: "The high power AESA front end and multichannel techniques generator are common building blocks not just for the U.S. Navy's Next Generation Jammer, but also for other airborne, maritime and ground-based EW [electronic warfare] systems."
http://breakingdefense.com/2014/11/next-gen-jammer-passes-first-airborne-tests-raytheon/