Raytheon Unveils Its Next Gen Air Force Trainer
By
Colin Clark
on July 12, 2016 at 9:52 AM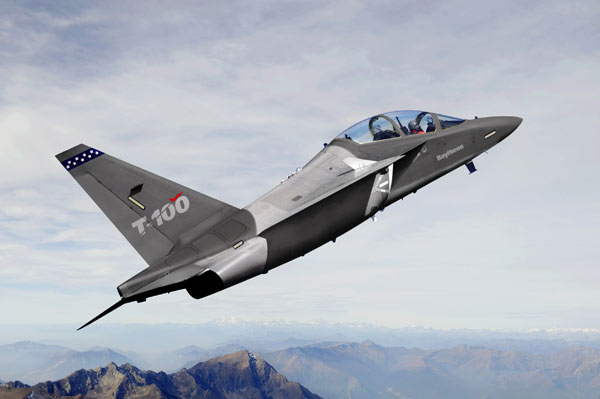 FARNBOROUGH: For the first time at
an air show
, Raytheon has presented its offering for
the replacement of the T-38 trainer
here, the
T-100
. Thanks to the buckets of rain that keep falling we can't offer you a photo, but we can tell you the plane is here.
We understand the company is likely to make the decision about where to build the 70 percent of the program that will be built in the United States by this fall.
Where the work gets done is a crucial political and technical issue since the Italian company Leonardo, formerly known as Finmeccanica, currently builds the aircraft. As Northrop Grumman knows all too well, having your offering tarred as "foreign" can be a crippling constraint. Of course, the aircraft is only one component of the training system, which includes twin Honeywell Aerospace F124 engines, a training system developed by CAE, a helmet-mounted display and simulators.
The Air Force will probably issue its request for proposal come the end of this year. After years of to-and-fro over the program's prospects (no one disagrees that it's needed) the Air Force seems to have locked the trainer into its budget.
Raytheon's competitors includes Lockheed Martin and Korea Aerospace Industries, who have teamed up to offer the T-50A. Boeing/Saab team will offer something about which they remain tight-lipped. And a Northrop Grumman-led group that includes BAE Systems and L2 .
We spoke today with Raytheon's Dan Darnell, former head of the Air Force's Thunderbirds and and an F-15 pilot with 15 years experience, about the program at Raytheon's chalet here. One bit of new news: Darnell told reporters that the Air Force has indicated it would be interested in a trainer aircraft that could also replace the
A-10 Warthog
for Close Air Support missions. It's not a requirement, Darnell said, but…
http://breakingdefense.com/2016/07/raytheon-unveils-its-next-gen-air-force-trainer/