Russia accuses Turkey of preparing to invade Syria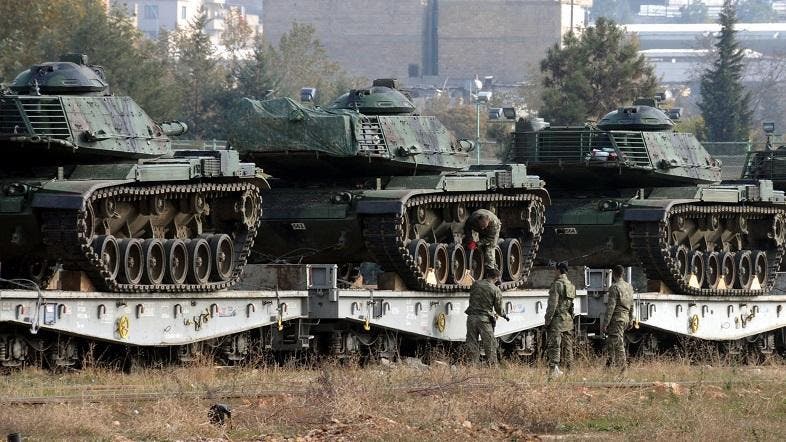 "We have serious grounds to suspect Turkey is in intensive preparations for an armed invasion of the territory of a sovereign state - the Syrian Arab Republic," the defense ministry said in a statement (File Photo: AP)
By AFP Moscow Thursday, 4 February 2016
Russia on Thursday accused Turkey of actively preparing to invade Syria, saying it had spotted troops and military equipment on the border with the war-torn country.
"We have serious grounds to suspect Turkey is in intensive preparations for an armed invasion of the territory of a sovereign state - the Syrian Arab Republic," the defense ministry said in a statement.
Ties between Moscow, which supports the regime of Syrian President Bashar al-Assad, and Ankara, which is a staunch backer of the opposition, have been in tatters since Turkey shot down a Russian bomber on the Syrian border in November.
Moscow's claims came as Turkish Prime Minister Ahmet Davutoglu, speaking at an international aid conference for Syria in London, implicitly accused Russia of "war crimes" in the country.
Ankara said earlier Thursday that it had refused to allow a Russian reconnaissance plane to overfly its territory near Syria because of a disagreement over the flight plan.
Russia said Turkey had not given Moscow any clear explanation for the decision.
"We consider these Turkish actions to be a dangerous precedent and an attempt to conceal illegal military activities at the Syrian border," the defense ministry said.
"Moreover, we are recording more and more signs of covert preparations by the Turkish armed forces for active action on Syrian territory," it said, adding that Russia has ramped up reconnaissance in the Middle East.
"So if someone in Ankara believes that the cancellation of the flight by Russian monitors would allow (them) to hide something then this is unprofessional."
The defense ministry, citing reconnaissance data, said Turkey had recently expanded a parking lot for heavy-duty trucks on the border as well two smaller parking lots in rebel-controlled Syria.
"Such sites are used to secure a quick movement of military columns containing ammunition and weapons to a theatre of operations as well as a fast transfer and evacuation of personnel," it said.
Moscow said it had recorded plenty of such examples at the Syrian-Turkish border "including the presence of troops and military equipment."
Russia also said it was surprised that representatives of Pentagon, NATO and human rights organizations in Syria did not issue any reaction.
The Turkish foreign ministry declined to immediately comment on the Russian claim.
U.N. special envoy Staffan de Mistura announced Wednesday the suspension of peace talks to end Syria's civil war as the West accused Moscow of seeking a military solution to the war and refusing to halt its strikes.
Following a request from Assad, Moscow launched a bombing campaign in Syria in September, saying it needed to target jihadists like the Islamic State of Iraq and Syria (ISIS) group before they cross into Russia.
The Syrian opposition has been outraged at Moscow's determination to press ahead with its bombing campaign during peace talks and accused Russia of targeting civilians.
Last Update: Thursday, 4 February 2016 KSA 19:19 - GMT 16:19
http://english.alarabiya.net/en/News/middle-east/2016/02/04/Russia-accuses-Turkey-of-preparing-to-invade-Syria.html