Russia defense industry unveils the UDAR first unmanned BMP-3 infantry fighting vehicle.
During the Russian Defense Ministry's Innovation Day fair which has take place the 5 and 6 October 2015 near Moscow, Russian defense industry has unveiled a new unmanned ground vehicle based on the BMP-3 tracked armoured infantry fighting vehicle, the UDAR.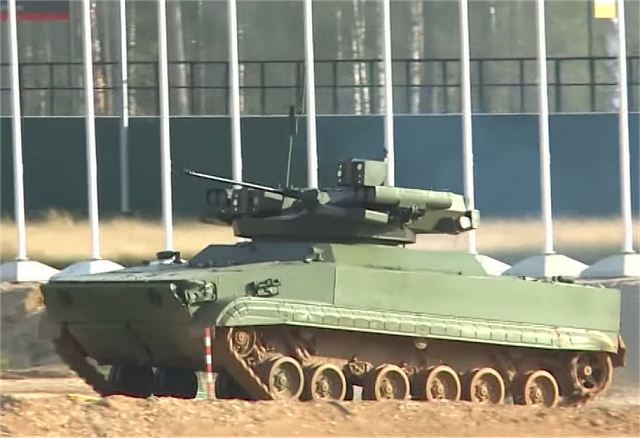 UDAR unmanned BMP-3 infantry fighting vehicle in live demonstration in Kubinka near Moscow.
The results of the research activities of the Russian Defense Ministry in 2015 were presented at the Innovation Day which took place on Monday and Tuesday at the ministry's exhibition center in Kubinka (near Moscow) and also in Rostov-on-Don, Yekaterinburg and Vladivostok, the ministry's press service reported.
The "UDAR", unmmaned fighting vehicle was presented in Moscow during a live demonstration to show the operational capabilities of this new vehicle.
The UDAR is based on the tracked chassis of the BMP-3 armoured infantry fighting vehicle but the turret is removed and replaced by an unmanned weapon station. In the center, the hull of the vehicle is raised to integrate the weapon station.
A full range of sensors are mounted to the lower part of the turret to control the vehicle. The UDAR is fitted with the Epoch remote controlled weapon station which is also fitted on the
T-15 BMP
,
Kurganets-25 BMP
and
Bumerang
infantry fighting vehicles.
The Epoch turret is armed with one 2A42 30mm automatic cannon and one 7.62mm PKT coaxial machine. On each side of the turret, there is also two launchers for the Kornet-EM anti-tank guided missile. The turret is equipped with a wide range of modern sensory, target acquisition and target tracking equipment which can engage targets day and night at maximum range of 5500 m.

The UDAR is fitted with the Epoch remote weapon station.
Russia defense industry unveils the UDAR first unmanned BMP-3 infantry fighting vehicle 10510153 | weapons defence industry military technology UK | analyse focus army defence military industry army