Russia Seeks Middle East Deals at MAKS Air Show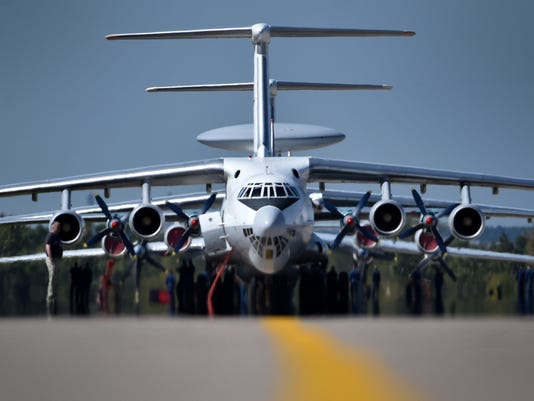 MOSCOW — Political upheaval over the last year has created a radically different business, political and security environment for this week's biennial International Aviation and Space Salon (MAKS) compared with the 2013 exhibit.
Russian defense firms under Western sanctions imposed for Moscow's annexation of Crimea last year have effectively cut the industry off from Western credit and customers.
This has not stopped companies like Airbus and Boeing from booking salon space to show off their civilian wares, such as the new A350 commercial plane, but it has put the Russian defense industry under immense pressure to demonstrate that it will make due with non-Western customers, which have been the traditional buyers of Russian equipment.
"The MAKS air show is likely to illustrate the Kremlin's real and emerging security partners in the Near and Far East," said Theodore Karasik, a UAE-based geo-political analyst who closely follows trends in Russian arms agreements.
Russia already maintains a commanding presence in the arms markets in these regions. In 2014, Russian arms exports hit a record high of $13.2 billion, with a heavy focus on aircraft sales. Its main trading partners are nations such as China and India.
Russian defense firms that will present their products at the MAKS air show, such as Almaz-Antey and the United Aircraft Corp., are Russia's largest defense contractors, and saw surging revenues in this year's
Defense News Top 100 ranking
.
But Russia appears to be making a concerted push to sweep up contracts from non-traditional customers in the Middle East such as Saudi Arabia and Jordan. On Aug. 18, Russian media reports said that the Saudi and Jordanian kings would join President Vladimir Putin at the show's opening on Aug. 21.
"The visit of both the Saudi and Jordanian kings is part of the broader picture regarding the politics surrounding MAKS," said Karasik. "Both Riyadh and Amman may be looking for equipment to support allies in the Near East specifically to add airpower assets to complement Russian equipment on the ground in several locations."
Alexey Khlebnikov, a Moscow-based analyst focusing on the Middle East, said Egyptian President Abdel Fattah al-Sisi is also expected in Moscow this week, indicating that both Jordan and Egypt are looking to buy Russian weapons, though a contract might not be signed at MAKS.
The Iranian Embassy in Moscow also confirmed that an Iranian delegation will be present at MAKS. Several Russian media reports said that Russia and Iran are expected to sign an agreement on the sale of four battalions of S-300 air defense systems this week. Though they did not specify where this would take place, it is possible MAKS will be the forum.
However, "the most important deal is the possible arms deal with Saudi Arabia," Khlebnikov said. "My guess is that Saudi Arabia might be interested in the newest Russian combat helicopters, the K-52Ks, which were specifically designed for the Mistral helicopter carriers."
The K-52K will be shown publicly for the first time at MAKS, and given that Saudi Arabia has expressed a strong interest in the Mistral carriers, which France was supposed to deliver to Russia before the contract was suspended last year, "it makes it very likely that the Saudis want the helicopters [built for the ships]," Khlebnikov said.
Though foreign arms sales are going to dominate the MAKS air show, the Russian Air Force is expected to sign a major contract for 48 new Su-35 multirole fighters, newspaper Vedomosti reported last week, citing unidentified defense industry sources.
Russia Seeks Middle East Deals at MAKS Air Show