Russian jets 'aggressively' pass US warship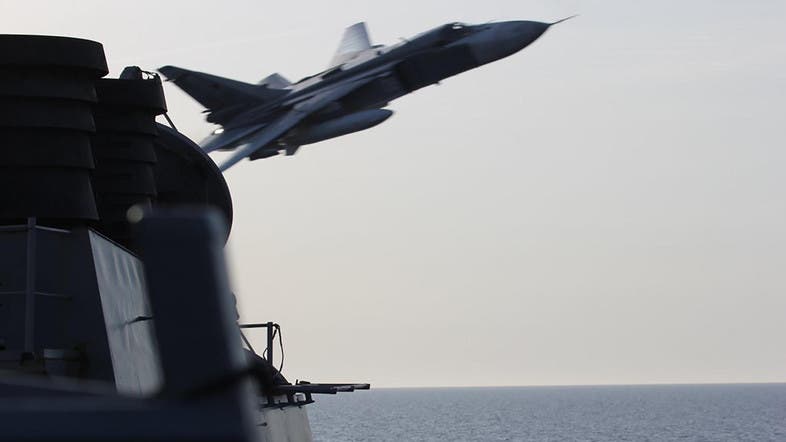 An US Navy picture shows what appears to be a Russian Sukhoi SU-24 attack aircraft making a very low pass close to the US guided missile destroyer USS Donald Cook in the Baltic Sea. (Reuters)
AFP, Reuters Washington/Moscow Thursday, 14 April 2016
A Russian military jet came within a few feet of a US destroyer in international waters in the Baltic Sea during a series of "aggressive" overflights, US officials said Wednesday.
Russian aircraft repeatedly buzzed the USS Donald Cook this week, including an incident Tuesday in which a Russian Su-24 flew just 30 feet (nine meters) above the ship in a "simulated attack profile," said the US military's Europe Command (EUCOM).
"We have deep concerns about the unsafe and unprofessional Russian flight maneuvers," EUCOM said in a statement.
"These actions have the potential to unnecessarily escalate tensions between countries and could result in a miscalculation."
The incidents come at a time of prickly ties between Moscow and Washington over Russian involvement in conflicts in eastern Ukraine and in Syria, and in area of eastern Europe that the Kremlin considers its "backyard."
EUCOM released video showing warplanes zooming so close past the Cook that one sailor can be heard saying: "He is below the bridge wing," meaning the plane was flying lower than the highest point of the ship.
A senior US defense official, speaking on condition of anonymity, said: "This is more aggressive than anything we've seen in some time."
White House spokesman Josh Earnest called the overflights "entirely inconsistent with the professional norms of militaries operating in proximity to each other in international waters and international airspace."
The maneuvers began Monday while the destroyer was located about 70 nautical miles from Kaliningrad, a Russian exclave, in international waters.
Two Russian Su-24s flew 20 times past the USS Cook at a distance of less than 1,000 yards and at an altitude of about 100 feet, the official said.
Then on Tuesday, a Russian Ka-27 Helix anti-submarine helicopter flew seven times around the destroyer, taking photographs as it passed.
Shortly after, two Su-24s roared toward the ship, making 11 close-range and low-altitude passes, including one that was "so low it created wake in the water," the official said. The plane was "wings clean," meaning it was not visibly armed, he added. US sailors tried multiple times to hail the Russian craft on international frequencies but got no response.
"The Russian aircraft flew in a simulated attack profile and failed to respond to repeated safety advisories in both English and Russian," EUCOM said.
"USS Donald Cook's commanding officer deemed several of these maneuvers as unsafe and unprofessional." A Polish helicopter had been conducting drills on the destroyer and was refueling during one of the overflights.
"As a safety precaution, flight operations were suspended until the Su-24s departed the area," EUCOM said. The Pentagon periodically decries the risky tactics displayed by Russian pilots.
"There have been repeated incidents over the last year where the Russian military, including Russian military aircraft, have come close enough to each other or have come close enough to other air and sea traffic to raise serious safety concerns, and we continue to be concerned about this behavior," Earnest said.
Russia's response
The crews of the Russian Su-24bombers which flew near the US guided missile destroyer in theBaltic Sea on Tuesday respected all safety rules, Interfax news agency quoted Russian Defence Ministry spokesman Igor Konashenkov as saying on Thursday.
SU-24 planes were conducting test flights and "having observed the ship, turned away in observance of all safety measures," the defence ministry said, adding that the USS Donald Cook was in "operational proximity of the Russian navy's Baltic fleet base."
Last Update: Thursday, 14 April 2016 KSA 12:12 - GMT 09:12
http://english.alarabiya.net/en/News/world/2016/04/14/Russian-jets-in-repeated-aggressive-passes-of-US-warship.html