Russian Official:
'Tanks Don't Need Visas'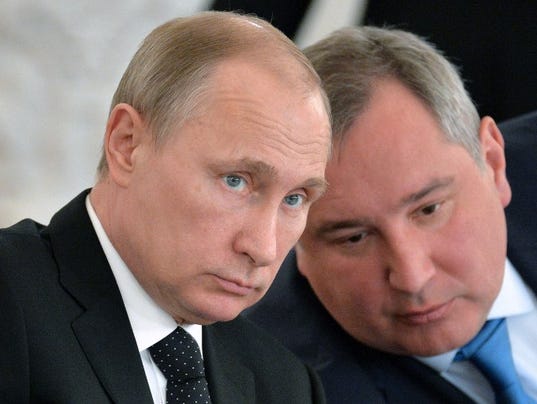 Russian President Vladimir Putin, left, listens to Russia's Vice Prime Minister Dmitry Rogozin during a March 17 meeting of the Victory Organizing Committee at the Kremlin in Moscow.(Photo: Alexei Druzhinin/AFP)
MOSCOW — An outspoken deputy prime minister in charge of Russia's defense sector has dismissed Western concerns over Moscow's increased assertiveness in the Arctic by saying that "tanks don't need visas."
Dmitry Rogozin, who oversees the defense industry, is known for his hawkish remarks and enjoys rattling Western officials.
"I've always joked about it... so what if they won't give us visas, put us on sanctions list ... tanks don't need visas," Rogozin said on state TV late Sunday, after the host asked him whether Europe and the United States are concerned about Russia's presence in the Arctic.
Russia recently conducted huge military exercises in its Arctic north as it seeks to bolster its claims over the vast energy and mineral resources now increasingly accessible due to the receding ice caps.
Rogozin is known for inflammatory tweets about the West, writing at the weekend that it will "fall under the weight of Islamic State and gays" rather than a perceived threat from Russia.
The deputy prime minister formerly served as an envoy to NATO and once founded a nationalist party. He is on the sanctions list of both the US Treasury and the European Union following the annexation of Crimea in March 2014.
After being put on the blacklist last year he boasted that Russia's defense sector has "many other ways of traveling the world besides tourist visas."
Last May his plane was prevented from flying over EU member Romania, after which he wrote: "Next time I will fly in a Tu-160" bomber, provoking protest from the Romanian foreign ministry who called it a "serious threat."
Russian Official: 'Tanks Don't Need Visas'