S. Korea warns rocket launch by North would be taken 'seriously'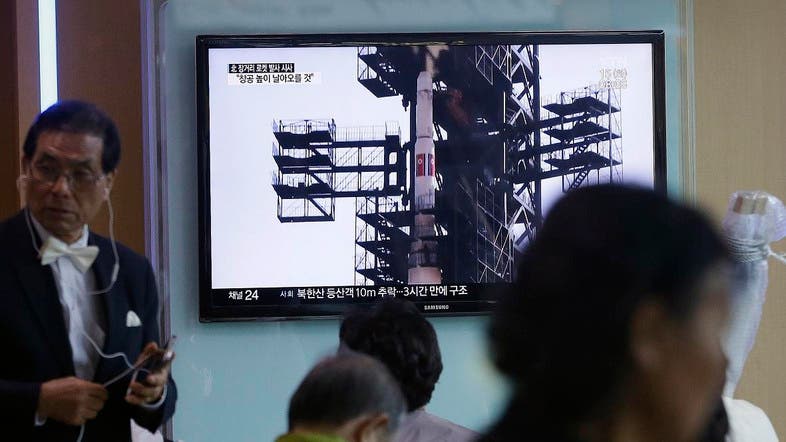 A TV screen shows a file footage of the Unha rocket in North Korea, at Seoul Railway Station in Seoul, South Korea. (AP)
By AFP | Seoul
Tuesday, 15 September 2015
South Korea has warned on Tuesday that any satellite rocket launch by North Korea would be considered a ballistic missile test, and a "serious" provocation that would violate U.N. resolutions.
"Any launch of a ballistic missile by North Korea is a serious act of provocation," Defense Ministry spokesman Kim Min-Seok said, a day after Pyongyang hinted it might carry out a rocket launch to mark a key political anniversary next month.
Such a move would invite fresh international sanctions on the isolated North and jeopardize a reunion being organized with South Korea of families divided by the 1950-53 Korean War.
The North insists its rocket launches are intended to put peaceful satellites into orbit, while the United States and its allies see them as disguised ballistic missile tests.
"It is a military threat and a clear violation of the U.N. resolutions banning any activities using ballistic missile technology," Kim told reporters.
There has been widespread speculation that the North might launch a satellite to mark the 70th anniversary of the founding of the Workers' Party of Korea (WPK) on October 10.
Kim stressed that "no particular activities" had been observed so far to suggest a launch was imminent, but he was responding to comments Monday by the head of North Korea's space program that Pyongyang was in the "final phase" of developing a new geo-stationary satellite.
"The world will clearly see a series of satellites... soaring into the sky at the times and locations determined by the WPK central committee," the director of the National Aerospace Development Administration said.
Last Update: Tuesday, 15 September 2015 KSA 07:45 - GMT 04:45
http://english.alarabiya.net/en/News/asia/2015/09/15/S-Korea-warns-rocket-launch-by-North-would-be-serious-provocation-.html