Saudi Arabia a large military power in the region against Islamic State fighters.
The presence of the Islamic State group on Saudi Arabia's border with Iraq has been the Saudi government's chief worry in recent months, bringing into sharp focus the important role that the country's large, well-armed military will play under new King Salman. Saudi's cooperation in the U.S.-led coalition airstrikes against ISIS in Syria has reawakened a powerful military that has not fought since 1991.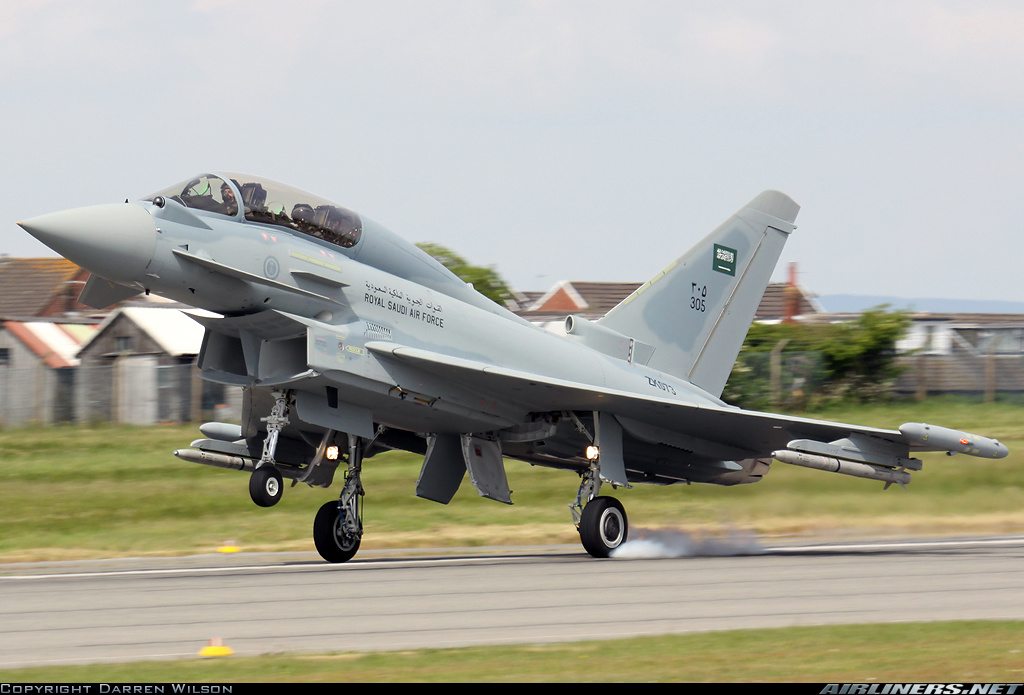 Royal Saudi Air Force Typhoon fighter aircraft at Malta - photo Gordon Zammit
​
Despite years of peace, Saudi Arabia has maintained a large and powerful military that is regarded among the top five most advanced in the world, according to a Stockholm International Peace Research Institute (Sipri) report.
Funded from vast oil revenue, Saudi Arabia's military is a highly advanced mix of Western-bought hardware, primarily from the U.S., France and the United Kingdom. According to the Sipri report, Saudi Arabia devoted around $67 billion to its military in 2013, around 9.3 percent of its GDP, up from $58 billion the previous year. That makes the Sunni kingdom the biggest spender on defense in the world as a percentage of the economy. In absolute terms, it's the seventh-biggest spender, with more money devoted to weapons than India.
Against ISIS, the military has so far only employed its substantial air force, which has over 300 aircraft, including newly acquired
Eurofighter Typhoon
combat jets made in Europe. To bomb ISIS, Saudi has used the American-made
Boeing F-15 Eagle
, a plane exported only to the most trusted American allies such as Israel and Japan.
But with Islamic State fighters probing the borders in the north of the country, the Saudi army is also likely to come into play, even if it's just used as a deterrent. That, too, is a formidable force, with over 150,000 men in active service, making it larger that the French and British armies.
The Saudi armed forces consists of the Saudi Arabian Army, the Royal Saudi Air Force, the Royal Saudi Navy, the Royal Saudi Air Defense, the Saudi Arabian National Guard (SANG), and paramilitary forces, totaling over 200,000 active-duty personnel.
The combat strength of the Saudi Army consists of 3 armoured brigades, 5 mechanized infantry brigades, three light motorized rifle brigades, and one airborne brigade. It also has five independent artillery battalions and an aviation command.
The air force is organized in seven fighter/ground-attack squadrons, six fighter squadrons, and seven training squadrons. Saudi Arabia has at least 15 active military airfields. Saudi Arabia has around 300 combat aircraft. The kingdom's combat aircraft are newly acquired Eurofighter Typhoons and upgraded Tornado IDS,
F-15 Eagle and F-15E Strike Eagle
fighter planes. Saudi Arabia has a further 80+ F-15 Eagles on order and an option to buy another 72
Eurofighter Typhoons.