Saudi Arabia one of world's top 20 largest donors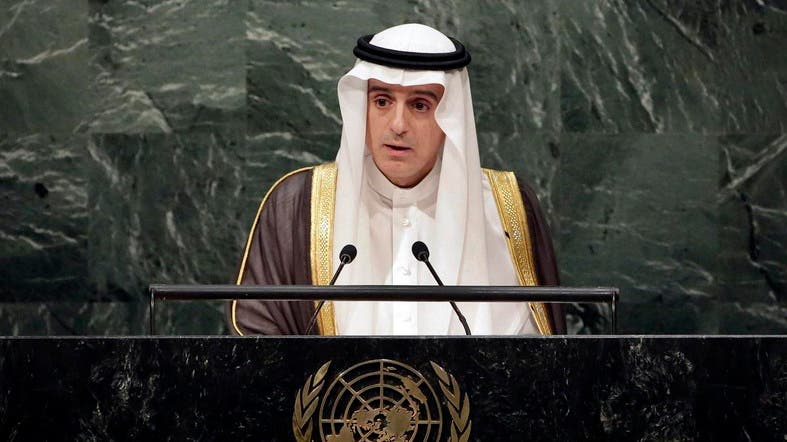 Saudi foreign minister stresses kingdom's commitment to seeing the success of sustainable development in the region. (AP)
By Staff Writer | Al Arabiya News
Monday, 28 September 2015
Saudi Foreign Minister Adel al-Jubeir said on Sunday that Saudi Arabia joined the list of the world's 20 largest donor of development aid and ranked sixth overall last year, according to U.N. statistics.
In a speech at the United Nation's Millennium World Summit on Sustainable Development, Jubeir stressed on Saudi Arabia's keenness to see the successful implementation of the sustainable development goals and their adoption across the region, pointing out the importance to also focus on achieving them for those in countries suffering from occupation.
Jubeir, however, stressed the "Kingdom retains full sovereign rights to oppose any implementations and recommendations that contradict the principles of Islam and its legislation."
The Saudi foreign minister also spoke of the Gulf Arab Kingdom's strong part in helping the global vision behind the Millennium Development Goals, ever since its inception 15 years ago.
"It is clear from the follow-up to the implementation of the Millennium Development Goals that the Kingdom has exceeded the authorized limits for its completion of the goals and before the proposed deadlines," Jubeir said.
"It is because of this that Saudi Arabia was able to join the list of high development index countries," he added.
Last Update: Monday, 28 September 2015 KSA 08:46 - GMT 05:46
http://english.alarabiya.net/en/News/middle-east/2015/09/28/Saudi-Arabia-one-of-world-s-top-20-largest-donors-.html