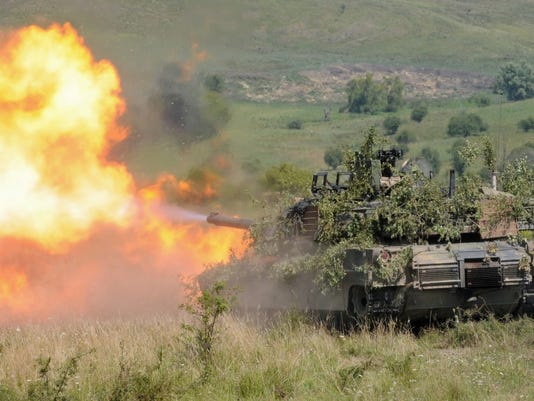 An M1A2 Abrams Tank belonging to Delta Company, 1st Combined Arms Battalion, 64th Armor Regiment, 1st Armored Brigade Combat Team, 3rd Infantry Division, fires a round Aug. 6, during a combined arms live fire exercise (CALFEX) at the Romanian Land Force Combat Training Center near Cincu, Romania.(Photo: Staff Sgt. Corinna Baltos / 24th Press Camp Headquarters)
Saudi Arabia Requests US Tanks, Vehicles for $1.15 Billion
Jen Judson
, Defense News 3:29 p.m. EDT August 9, 2016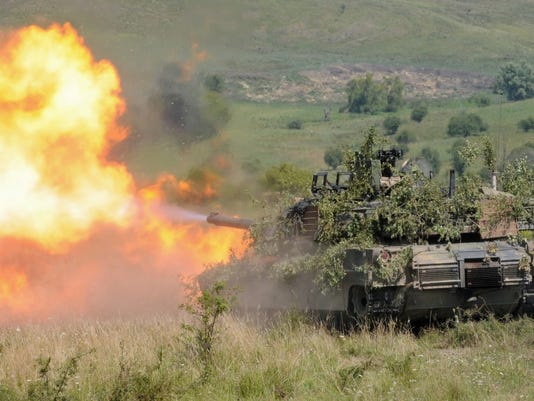 (Photo: Staff Sgt. Corinna Baltos / 24th Press Camp Headquarters)
24 CONNECT
TWEET
72 LINKEDIN
COMMENTEMAILMORE
WASHINGTON — Saudi Arabia has requested to buy General Dynamics Land Systems-made M1A2S Abrams tanks and M88A1/A2 Heavy Equipment Recovery Combat Utility Lift Evacuation System (Hercules) Armored Recovery Vehicles (ARV) in a foreign military sale worth approximately $1.15 billion, according to a Defense Security Cooperation Agency statement Tuesday.
Congress was notified yesterday of the possible sale, which the State Department has approved. The notice does not mean the sale has been concluded.
The kingdom's request includes up to 153 M1A1/A2 tanks for conversion to 133 M1A2S Saudi Abrams-configured main battle tanks, along with 20 replacements for vehicles damaged in battle.
The Saudi Arabian government also wants 20 Hercules ARVs.
In addition to the vehicles, Saudi Arabia is requesting 153 M2 .50 caliber machine guns, 266 7.62mm M240 machine guns and 153 smoke grenade launchers.
The order would also include driver vision enhancers and night vision devices for the Abrams and rounds of training and live ammunition, among other items like binoculars and camouflage netting.
"This proposed sale will contribute to the foreign policy and national security of the United States by helping to improve the security of a strategic regional partner which has been and continues to be a leading contributor of political stability and economic progress in the Middle East," the notice from the DSCA states. "This sale will increase the Royal Saudi Land Force's (RSLF) interoperability with U.S. forces and conveys U.S. commitment to Saudi Arabia's security and armed forces modernization."
http://www.defensenews.com/story/de...lion-abrams-tanks-hercules-vehicles/88452520/