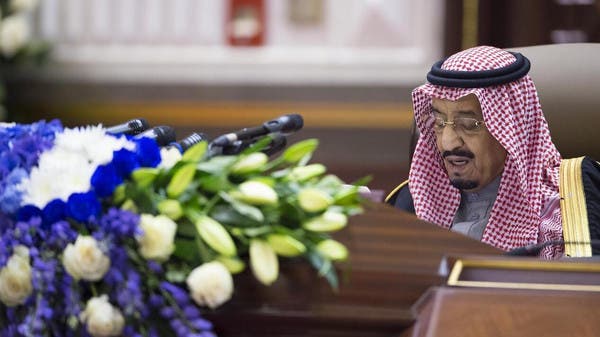 Saudi Crown Prince Salman bin Abdulaziz speaks before the consultative assembly on Tuesday. (Al Arabiya)
Staff Writer, Al Arabiya News
Tuesday, 6 January 2015
King Abdullah bin Abdulaziz of Saudi Arabia vowed on Tuesday to deal with the challenges posed by the falling oil prices with a "firm will."
King Abdullah made the statement in a speech read on his behalf by Crown Prince Salman bin Abdulaziz as he opened a session of the consultative assembly (Majlis al-Shura) in Riyadh.
"You are aware of the urgent tensions taking place in the international oil market, caused by a number of factors,
foremost the weak global economic growth," Crown Prince Salman said.
"This development is not new in the oil market, and the kingdom has in the past dealt with it firmly and wisely," he added.
The Crown Prince said the kingdom will maintain its "same approach" towards the oil market. Global crude prices fell about 50 percent in 2014, mostly since June, and the rout has continued into the new year.
Following the speech Crown Prince Salman reassured lawmakers and citizens about King Abdullah's health, which oil markets are keeping a close eye on.
The king was hospitalized last week after suffering a lung infection. The Royal Court later said his condition was stable.
[With AFP]
Last Update: Tuesday, 6 January 2015 KSA 19:08 - GMT 16:08
http://english.alarabiya.net/en/bus...-firm-will-in-dealing-with-oil-challenge.html