Saudi Foreign Minister tells Assad to go or face 'military option'
Saudi Arabia's foreign minister has said that his country might consider military options in Syria to remove President Bashar al-Assad. He stressed that a political solution leading to his departure would be preferable.
Syrian leader Bashar al-Assad must leave office or face being pushed out by force, Saudi Foreign Minister Adel Al-Jubeir said Tuesday, warning of stepped up support for Syrian rebel groups.
Jubeir rejected Russian calls for an international coalition to help Assad fight the self-styled "Islamic State" group (IS), and said the Syrian leader's best option would be to step down.
"There is no future for Assad in Syria, with all due respect to the Russians or anyone else," Jubeir told reporters in New York after meetings with Saudi Arabia's allies.
Two options
Jubeir said that there were two options for a settlement in Syria from a Saudi perspective.
"One option is a political process where there would be a transitional council," he said, describing this as the "preferred option."
"The other option is a military option, which also would end with the removal of Bashar al-Assad from power. This could be a more lengthy process and a more destructive process, but the choice is entirely that of Bashar al-Assad," Jubeir warned.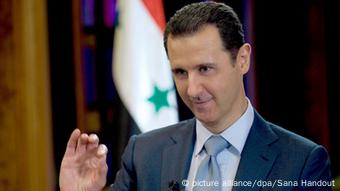 From the Saudi perspective, there appears to be no place at all for Assad in Syria's future, no matter how may be removed from power
Jubeir would not be drawn on specifics of what the military option would look like, but noted that Saudi Arabia was already supporting "moderate rebels" in their battle against Assad.
He added the best option would be for Assad to accept the principles of the Geneva I agreement signed at a peace conference in 2012, laying the groundwork for a transitional government.
Under this plan, he said, Assad would immediately cede power to an executive council made up of both members of his regime and of opposition figures.
Cooperation with and criticism of the West
The Saudi minister would not say what Western and Arab opponents of Assad's regime may or may not do to counter the new
military buildup in Syria by Russia
, Assad's closest ally along with Iran.
"We're not talking about (it)," he said.
US President Barack Obama has said he was
willing to talk to Russia
and Iran about how to end the Syrian conflict, now in its fifth year with more than 250,000 people killed and millions displaced and fleeing the country. Russia and Turkey have proposed a meeting that would include the United States, Russia, Saudi Arabia, Iran and Turkey.
The United States has insisted throughout that for any resolution of the conflict
Assad would have to leave power
.
Al-Jubeir also implicitly criticized the US and other opponents of the Assad regime for sparking the current exodus of thousands of Syrians to Europe to escape the conflict. He said Saudi Arabia was calling early on for a no-fly zone and robust arming of the Syrian opposition, and if this had been done early on, "we would not be in this situation."
Saudi Foreign Minister tells Assad to go or face ′military option′ | News | DW.COM | 30.09.2015