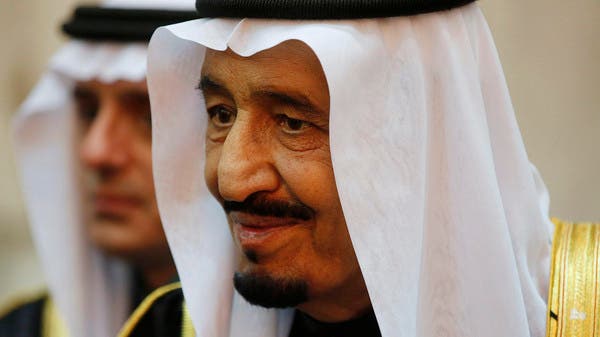 Saudi Arabia's King Salman is seen during U.S. President Barack Obama's visit to Erga Palace in Riyadh Jan. 27, 2015. (Reuters)
Staff Writer, Al Arabiya News
Friday, 30 January 2015
King Salman bin Abdulaziz has ordered a massive $29.3 billion (110 billion Saudi Riyals) spending in a series of decrees issued on Thursday, that include lavish payments of two months bonus salary to all Saudi state employees and a series of subsidies.
Former government employees will receive two months bonus pension, while students, people with special needs and people receiving welfare payments will also benefit from a bonus payment equivalent to two months of their annual income.
The King posted a statement later on Twitter in which he addressed his people saying: "You deserve more and whatever I do will never meet your right. I ask Allah to help me and you for the service of religion and the nations. Don't forget me in your prayers."
Included in the handouts was $5.3 billion (20 billion riyals) pledged in subsidies for electricity, water, and housing.
King Salman succeeded his brother, the late King Abdullah, who died after a short illness last week.
And in a commitment to the arts, King Salman pledged $267,000 for each art club in the kingdom.

Last Update: Friday, 30 January 2015 KSA 11:03 - GMT 08:03
http://english.alarabiya.net/en/bus...ing-orders-massive-29-3-billion-spending.html