https://www.bloomberg.com/news/arti...-organic&utm_source=twitter&utm_medium=social
An activist investor targeting
Clariant AG
abruptly gave up the battle, selling its shares to Saudi Basic Industries Corp. rather than carry on the fight to force a breakup and sale of the Swiss chemical maker.
Sabic, as the buyer is known, bought the 24.99 percent stake from White Tale Holdings, according to a
statement
on Thursday to the Saudi stock exchange. Sabic said it "currently has no plans" to make a takeover offer for Clariant and didn't disclose financial terms.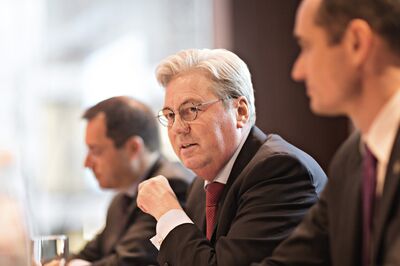 Hariolf Kottmann
Photographer: Michele Limina/Bloomberg
Clariant's shares fell as much as 5.2 percent, the most in almost three months, after the announcement. The stake had a market value of about 2.35 billion Swiss francs ($2.5 billion) based on Wednesday's closing price.
"Clariant intends to engage with Sabic over the coming weeks in order to discuss the new situation and explore possible ways to create value," the Muttenz, Switzerland-based company said in a separate
statement
Thursday. "Clariant will also continue the existing dialogue with all its other shareholders."
White Tale's exit will be welcomed by Clariant Chief Executive Officer Hariolf Kottmann after the group blocked his
planned combination
with Huntsman Corp. last year. Clariant is regarded by many investors as Europe's No. 1 chemical takeover target, and Sabic could provide Kottmann with the second large shareholder that he wanted to provide stability to the company, alongside a family investor group.
'Strategic' Investment
White Tale consists of Corvex Management, the hedge fund run by Keith Meister, and industry investor 40 North. "Sabic's strategic investment in Clariant is a successful outcome and we are pleased to have played a role in making it possible," David Millstone, co-chief investment officer of 40 North, said in the Saudi company's statement.
Clariant shares were trading 4.1 percent lower at 27.22 francs at 9:08 a.m. in Zurich. The stock had risen about 32 percent since White Tale announced July 4 that it had taken a stake and wanted to scuttle the Huntsman deal. The investor said in November it would go directly to the Swiss chemical maker's shareholders with a proposal that the company review strategic options after it was rebuffed by the board.
"The deal is part of Sabic's strategy to diversify its products and to provide innovative solutions to its customers,'' the Saudi firm said. The Swiss company will give it interests in markets as diverse as cosmetic ingredients, oil and gas chemicals and additives and colorants for plastics.
Biggest Deal Since GE
Buying a stake in Clariant would be Sabic'S biggest deal since acquiring General Electric Co.'s plastics business for $11.6 billion in 2007. That transaction nearly a decade ago triggered speculation the Saudi company was looking to make other acquisitions in a bid to lessen its dependence on producing large volumes of basic petrochemicals.
Instead, it was forced to restructure the plastics operations and the hype around its interest in other makers of higher-margin chemicals subsided.
Clariant's catalyst business may have been a key attraction for Sabic, according to Markus Mayer, an analyst at Baader Bank, pointing to Sabic's past interest.
Sabic lost out in the auction for German catalyst maker Sued-Chemie when it was sold by a Bavarian family group to Clariant for about $2.3 billion. The group still holds about 15 percent of Clariant.
"When Sued-Chemie was sold in 2011, Sabic was among the bidders in the last rounds," Mayer said. "As the catalyst business has just started its recovery, the timing of a takeover makes sense."
Mayer estimates that Clariant could be worth 35 francs to 40 francs a share in a complete takeover or breakup scenario. Following the Sabic deal, the likelihood of Clariant being bought up has risen to 70 percent, up from about 50 percent, he said in a note.