State Dept. OKs $952M Pakistan Helo Deal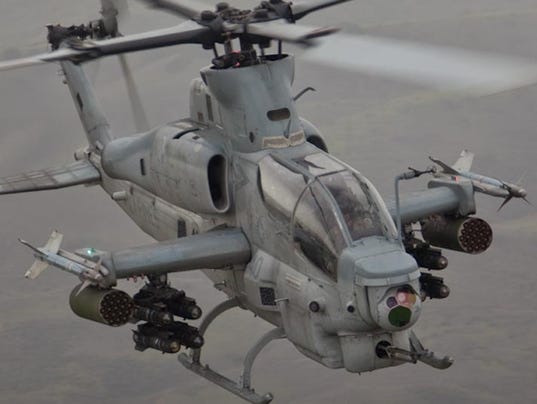 WASHINGTON — The US State Department has cleared a $952 million sale to Pakistan that includes 15 AH-1Z Viper attack helicopters and 1,000 Hellfire II missiles, according to a Defense Security Cooperation Agency (DSCA) announcement.
The sale is intended to support Pakistan's counterterrorism and counterinsurgency operations with a precision-strike, enhanced-survivability aircraft that can operate at high-altitudes, according to DSCA's Monday announcement. Pakistan would use the gear in operations in the North Waziristan Agency, the Federally Administered Tribal Areas and other remote and mountainous areas in all-weather, day-and-night environments.
"This proposed sale will contribute to the foreign policy and national security of the United States by helping to improve the security of a country vital to U.S. foreign policy and national security goals in South Asia," the announcement says.
The local Bell representatives in Pakistan, Access Zone, did not respond to queries regarding when they expected delivery should the deal be approved, or if they hoped more would be acquired to fully replace the approximately 48 Cobras currently in service.
Analysts in Pakistan expressed surprise at the announcement. Though the Viper had long been suggested as a replacement for the current fleet of AH-1F/S helicopter gunships, US congressional opposition seemed to make acquisition of further US equipment unlikely.
Analyst, author and former Australian defense attache to Islamabad, Brian Cloughley, says he was "absolutely certain that the US would not supply any more attack helicopters."
But he welcomes the announcement.
"This is very good news for Pakistan on two counts: First, the Army is getting one of the most sophisticated attack helicopters in the world; second, it shows that the US has not abandoned Pakistan, as so many people thought it had," he said.
"It does require the assent of Congress," said Cloughley, "but if Congress were to block it this would send a negative message concerning its determination to keep up the war on terror."
This is not to say that unrestricted arms sales will resume as "it seems that the main criterion is that US-supplied materiel must be COIN [counterinsurgency] specific. There would be difficulty in providing systems that are obviously intended for general warfare, i.e. against India," Cloughley says.
Claude Rakisits, nonresident senior fellow at the Atlantic Council's South Asia Center, said that "in its deliberations about whether to approve such a sale to Pakistan, the fact that the provision of this new capability will not alter the military balance between the two nuclear-armed states – Pakistan and India – will make it easier for the lawmakers to agree to this sale."
The announcement comes at a time when multiple types of helicopters are being pursued, both to replace the Cobras, and potentially support paramilitary and special forces operations.
Analyst Haris Khan of the Pakistan Military Consortium think tank said that even though it is a small number, the Vipers could replace at least some of the Cobras and it comes at a time when China has supplied three WZ-10 gunships, and Russia may be close to supplying approximately 20 Mi-35 Hinds
Agence France-Press reported Friday that Pakistan has in recent weeks focused its fight against the Taliban on the Tirah Valley, a Federally Administered Tribal Area, with a series of air strikes and ground assaults. Though the area, with steep valleys and dense woods, is inaccessible, Pakistan's military has claimed it has taken control of key terrain there.
State Dept. OKs $952M Pakistan Helo Deal