Stealth tech on view in Beijing parade
By Zhao Lei (China Daily) Updated: 2015-12-21 08:17
Comments
Print Mail Large Medium Small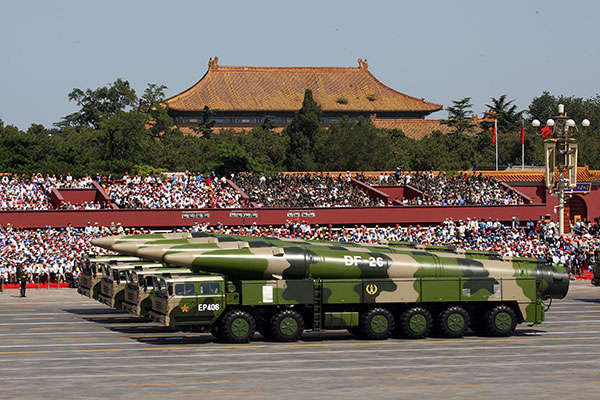 DF-26 missiles appear in the Sept 3 parade in Beijing.[Photo/China Daily]
Stealth technology was applied to the wheels of missile transporters used in the Sept 3 parade in Beijing marking the 70th anniversary of the end of World War II.
This was disclosed by the nation's largest missile manufacturer, China Aerospace Science and Industry Corp, in an article published this month on WeChat, the smartphone-based social media app.
The company did not go into details about the technologies used, saying only that the move was requested by the People's Liberation Army. A picture published with the article shows some people wearing respirators working on shells that were later installed as a shield on the vehicles' wheels.
The article said 30 engineers and workers from the Wuhan Magnetism-Electron Co Ltd in Hubei province, including four doctoral and 11 master's degree holders, took part in developing the unidentified equipment. Work started in March.
Gao Zhuo, a military observer in Shanghai, said missile specialists would be able to calculate the weight of a missile and its warhead if they could examine the transporter vehicles' wheels.
"This information is highly sensitive because you can use it to judge a missile's power and capacity," he said. "I think the specially designed shells can reduce radar and thermal detection, enabling the missile to remain a secret from those in the crowd using mini-detection devices, or from spy satellites."
In addition to the wheels, the PLA must have used stealth technologies on the missiles and the transporter vehicles to reduce the number of identifiable features on the weapons, he added.
A total of 112 missiles paraded by the PLA Second Artillery Corps, the country's de facto strategic missile force, appeared in the parade in Tian'anmen Square. The seven types shown at the event were all "backbones" of the missile force, according to the Corps.
The public debuts at the parade of the DF-21D and DF-26, both capable of sinking aircraft carriers, have become a hot topic among foreign military websites and publications, as it was the first confirmation that they had been developed.
Two weapons experts from the PLA Academy of Military Science, Wang Changqin and Fang Guangming, wrote in China Youth Daily last month that the DF-26 can carry nuclear and conventional warheads.
It can be launched in a way that requires hardly any prelaunch preparations. As a result, the missile is very hard to detect and track.
Stealth tech on view in Beijing parade - China - Chinadaily.com.cn