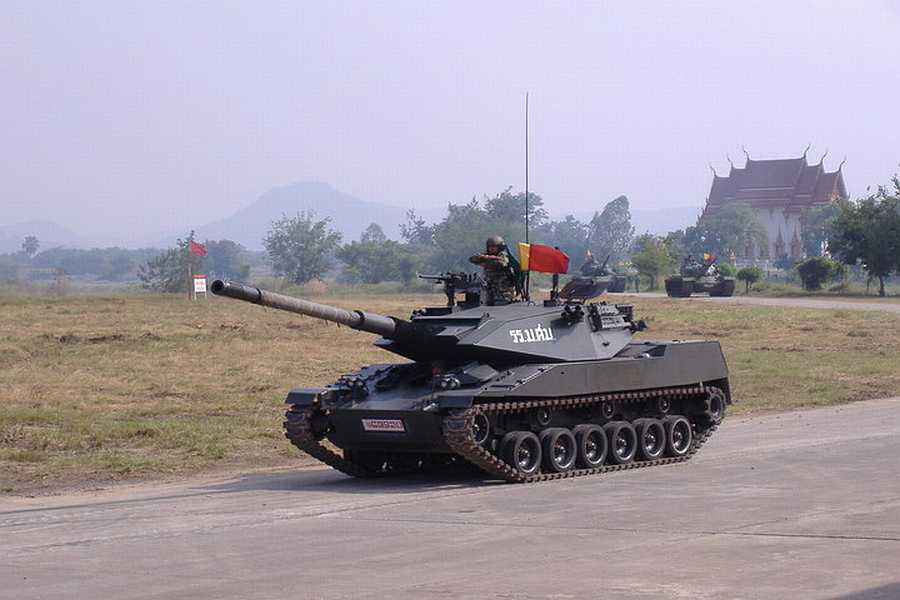 The
Stingray
is a
light tank
produced by
Textron Marine & Land Systems
division (formerly
Cadillac Gage
). It was specifically designed to use as many existing components of other American
armored fighting vehicles
as possible to keep costs down. It was originally developed for the U.S. Army as a light tank—with firepower matching that of a
main battle tank
(MBT), while lacking the countermeasures to be considered a main battle tank —for the
U.S. Army
's
Armored Gun System
competition in the 1980s. It was exported for use by
armed forces of Thailand
, who remain the only user.
The Stingray has a 105 mm bore cannon. Its cruise speed is 44 mph (71 km/h). Maximum grade is 60%. The maximum vertical distance it can scale is 2.7 feet (82 cm). It can ford water up to 3.5 feet (107 cm). It is air transportable in a C-130 cargo aircraft. The original Stingray program was launched in 1983, with the first prototype vehicle ready in August 1984. As of 2004, the only country to have purchased the Stingray is
Thailand
, which ordered 106 tanks that were delivered between 1988-1990. The Stingray turret was also marketed separately for retrofit installation on the hull of the M41, M47 or M551 tank or on the V600 armored car.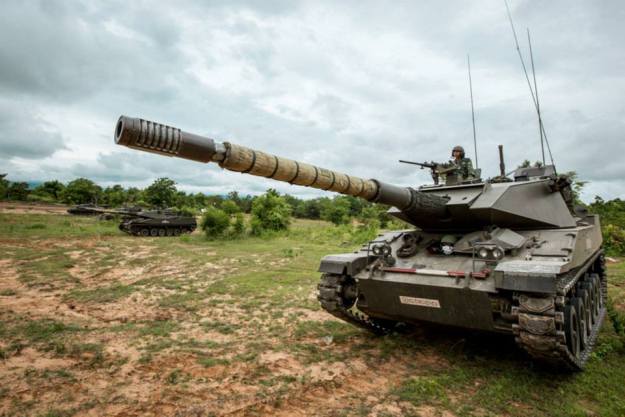 Specifications
Weight
22.6 tonnes
Length
9.3 m (30 ft 6 in) with gun forward
Width
3 m (9 ft 10 in)
Height
2.7 m (8 ft 10 in)
Crew
4 (commander, driver, gunner, radio operator/loader)
Armor
23 mm
Main
armament
L7
A3 105 mm rifled
tank gun
Secondary
armament
7.62 mm co-axial machine gun, 12.7 mm AA machine gun
Engine
Detroit Diesel Allison 8V-92TA 535 hp (399 kW), liquid cooled turbo charged 2 stroke V-8 diesel engine
550 hp (410 kW)
Suspension
Independent trailing arm
torsion bar
Operational
range
300 miles (480 km)
Speed
70 km/h