Taiwan Arrests Alleged Chinese Spy
TAIPEI — Taiwan has arrested an alleged Chinese spy, the first such apprehension in Taiwan in decades, according to the National Security Bureau.
The question many here in Taipei are asking is whether China will attempt some sort of swap to get him back. China is holding two Military Intelligence Bureau agents who were captured in Vietnam more than a decade ago.
On Jan. 16, Taipei prosecutors went forward on indictments on mainlander Zhen Ziaojiang's alleged spy ring, which included five Taiwanese accused of spying for China. The indictment charged former Army Maj. Gen. Hsu Nai-chuan, Air Force Lt. Col. Chou Chih-li, Air Force pilot Sung Chia-lu, Air Force official Yang Jung-hua, and karaoke club owner Lee Huan-yu.
According to media outlets, Zhen was a captain and an intelligence officer in the People's Liberation Army. This has given rise to the assumption that the Army's Second Department of the General Staff Department was in charge of the operation.
In 2005, Zhen obtained residency in Hong Kong and began flying to Taiwan ostensibly on business and tourist trips, which were allegedly missions to recruit Taiwan military officers, according to government statements to the press. Zhen's alleged mainland intelligence contact has been identified as a "Mao Shangyu," most likely a pseudonym, based in Xiamen City, Fujian Province, the statements said.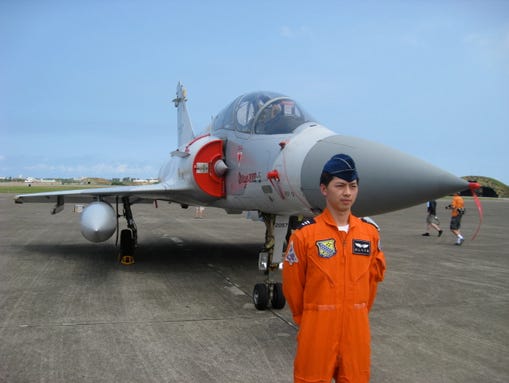 A Taiwanese Dassault Mirage 2000 fighter jet.(Photo: Wendell Minnick)
A statement released by the prosecutor's office accuses Zhen of recruiting retired and active military personnel in an effort to develop an intelligence network. Data harvested by the network includes information on the Dassault Mirage 2000 fighter, the long-range early warning radar built by Raytheon on Leshan Mountain in Hsinchu County, and procurement plans. Zhen allegedly paid his agents around US $9,400, along with free trips to Southeast Asian tourist spots.
Hsu, the former major general, appears to be the primary driver of the growth of the network, which might include as many as 10 additional members of the military. Hsu retired from the military in 2007 and was appointed head of the Kinmen Island County Government's Social Affairs Bureau.
His public record indicates he ran for a legislative office in 2012, but lost. He then ran as a candidate for Kinmen County Commissioner in November 2014, but lost again. Hsu had served as garrison commander for Matsu Island under the 193 Brigade before his retirement.
Some media reports have questioned whether China provided money for Hsu's campaign in an effort to control Kinmen and serve as an advocate for the return of the frontline islands of Kinmen and Matsu to the mainland.
Since the beginning of 2014, 15 cases of Chinese espionage have been uncovered. Of those, 90 percent involved either active or retired military personnel, according to a report presented to the legislature's Foreign Affairs and National Defense Committee by the National Security Bureau.
Since China and Taiwan began establishing bilateral economic and travel agreements with the election of Taiwan President Ma Ying-jeou in 2008, military morale has declined as fewer Taiwan military officers see a viable career in the military. Some retired officers are returning from trips to China on missions to harvest as many of these disgruntled officers as possible.
With the 2009 Economic Cooperation Framework Agreement, cross-strait ties have flourished. There are now 700 cross-strait commercial flights a week; in 2008, there were none. The number of Chinese visitors to the island is now around 3 million annually. The joke among many government officials in Beijing, according to media reports, is that it will be easier to buy Taiwan than invade it.
The result has been devastating. Just in the last several years, Taiwan military officers have sold China data on the E-2K Hawkeye airborne early warning aircraft, Patriot Advanced Capability-3 and PAC-2 anti-ballistic missile systems, and Hawk air defense missile system.
Taiwan defense sources indicate China has collected enough information to compromise the Po Sheng C4I upgrade program, Anyu-4 air defense network upgrade program, cryptography and signal intelligence, Shuan-Ji Plan (electronic warfare technology project), Wan Chien (Ten Thousand Swords) joint standoff weapon, the F-16 and Mirage 2000 fighter aircraft, and the long-range early warning radar on Leshan Mountain.
The Gu An Combat Plan for the defense of Taiwan and Penghu Island has also been compromised, along with the Navy's surface and submarine fleet's nautical charts, marine data on meteorological and oceanographic battle environments, as well as bathymetric maps, hydrographical and hydrological data on the waters around Taiwan, and details of a signal intelligence sharing agreement between Taiwan and the United States.
Taiwan Arrests Alleged Chinese Spy