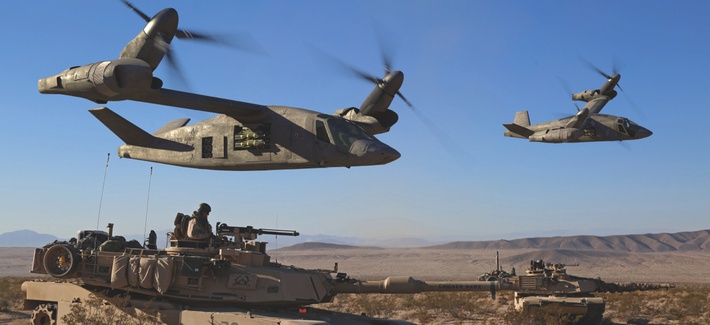 The Futuristic Aircraft That May Replace the Black Hawk Will Fly Next Year
April 30, 2016
By Marcus Weisgerber
But don't expect the V-280 or SB-1 to hit battlefields until after 2030 — unless their builders find other customers first.
Army
Research & Development
Next year will bring the first flights
of the prototype rotorcraft vying to replace the Army's venerable Black Hawk and other helicopters. But don't expect the futuristic aircraft to hit battlefields for another decade and a half — unless their manufacturers find other customers first.
The prototypes are being built for the Army's Joint Multi-Role Technology Demonstrator project by Bell Helicopter and the competing Sikorsky-Boeing team, who touted their work in advance of the Army Aviation Association of America, or "Quad A," annual summit in Atlanta this week.
Bell is building the V-280 Valor, a tiltrotor aircraft that can take off and land like a helicopter, or rotate its propellers to fly fast like a fixed-wing plane. Sikorsky and Boeing are building the SB-1 Defiant, a high-speed coaxial helicopter with one rotor mounted atop the other. Bell officials say V-280 ground testing is scheduled for next April and first flight for September 2017; Sikorsky-Boeing reps said their SB-1 would fly next year as well.
The Army commissioned the demonstrator aircraft in 2013 — after talking about about replacing its helicopters for
more than a decade
— to
prove various new technologies
for a replacement for the UH-60. Combat in Iraq and Afghanistan's hot, high, and sandy environments pointed up various
performance limitations
, so the new rotorcraft are being designed to fly higher, farther, and faster while also carrying more. The project will feed into the Future Vertical Lift program, a vast effort to replace all Army helicopters — which include the AH-64 Apache, CH-47 Chinook, and the OH-58 Kiowa — at a projected cost of around $100 billion.
Related: Black Hawk Empty: Unmanned Helicopter Passes Key Test
Thanks to a decade of heavy wartime use, the Black Hawks are wearing out faster than anticipated. But the Army isn't planning to buy its first new rotorcraft until after 2030. That's because its acquisition budget — aircraft, armored vehicles, and so forth — has
taken a major hit
. The service has even been
called out by a Dutch Air Force general
for the project's slow pace.
So Bell officials want you to know: they could start cranking out battle-ready aircraft in 2024 or 2025.
"There's no real technology that needs to be further developed for us to be able to design and develop an aircraft that meets those requirements," said Vince Tobin, Bell's vice president of advanced tiltrotor systems. "Our big push now is that, after we fly this and prove out that we can build this aircraft, that we are ready to go into engineering and manufacturing development."
The company is self-funding much of the project, mainly because the payoff could be so high if its V-280 is chosen by the Army, which operates most of the world's 2,700 Black Hawks. But Bell is also pitching their tiltrotor as a replacement for other H-60 variants flown by the U.S. Navy, Marine Corps, Air Force, and militaries of 26 other countries.
"Our view is that if any of the services that are flying any form of medium-utility, whether that be a SH-60, UH-60, MH-60, that this aircraft can fill that role going forward," Tobin said.
Bell is currently mating the wing to the fuselage of its V-280, after which "we'll have what looks like a completed aircraft," Tobin said. They will mount the tail in the fall and then put the engines at the tip of the wings. This final assembly work is happening in Amarillo, Texas, where the company builds most of its helicopters. Bell built the wing "almost from scratch" and Israeli firm IAI built "almost all of the parts" in the nacelles, Tobin said. Spirit Aerosystems built the fuselage in Wichita, Kansas, and GKN is building the tail in Alabama.
"Right now, we're sticking to the schedule that we published when we started this effort a couple of years ago," Tobin said.
The Sikorsky-Boeing team also is putting together their fuselage; final assembly will commence later this year ahead of first flight in 2017, said Doug Shidler, Sikorsky's program director for its Joint Multi-Role tech demonstrator. Shidler also touted the company's S-97, a smaller compound helicopter, on which the SB-1 is based. The S-97 has a max gross weight of 11,000 pounds; the SB-1, more than 30,000 pounds.
"That gives us a very broad range to demonstrate this technology and capability that this platform will bring to the warfighter," Shidler said. "Based on the requirements that come out, we can adapt to their requirements pretty quickly and respond with a configuration that would support them.
In the Middle East, the V-22 Osprey tiltrotor, which flies farther and faster than its traditional helicopter cousins, have been in demand. Last year, the United Arab Emirates
asked the U.S. to base Ospreys
closer to the fight against Islamic State militants, so downed pilots could be rescued quicker. Longer-range helicopters could also prove more effective in the vast Asia-Pacific region.

The Futuristic Aircraft That May Replace the Black Hawk Will Fly Next Year - Defense One