The victims were identified as Chapel Hill residents Deah Shaddy Barakat, 23, his wife Yusor Abu-Salha, 21; and her sister, Razan Abu-Salha, 19, of Raleigh. (Twitter)
By Staff writer | Al Arabiya News
Wednesday, 11 February 2015
U.S. police have arrested a gunman following the killing of three young Muslims in the town of Chapel Hill in North Carolina, the Associated Press reported citing local media on Wednesday.
Police have named the victims as 23-year-old Deah Shaddy Barakat, his wife Yusor Mohammad, 21, and her sister, Razan Mohammad Abu-Salha, 19.
According to the reports by the Chapel Hill News and the Observer newspaper, the suspected shooter – identified as 46-year-old Craig Stephen Hicks – had turned himself in.
The suspected shooter – identified as 46-year-old Craig Stephen Hicks. (Chapel Hill Police)
He was being held in Durham County Jail on three counts of first-degree murder, but the motive of the shooting remains unclear. The victims were found shot dead at the scene, while some residents described not even being aware there was an incident until police arrived.
The Chapel Hill police
website released a statement
confirming the three deaths and saying Chapel Hill Police Officers responded to a report of gunshots in the area of Summerwalk Circle in Chapel Hill. When officers arrived, they located three subjects who had been shot."
"The Chapel Hill Police Department is questioning a person of interest in the crime and has reason to believe that there is no ongoing threat to the public," the statement added.
Deah and his wife Yusor. Deah was a dental student and worked for a charity giving dental care to Palestinian children and refugees. (Twitter)
The news prompted an outpouring of grief on social media. Pictures of the victims studying and playing basketball have been posted. One image shows the three victims recently pictured together at the graduation of Deah's sister-in-law, Razan, who ran a blog showing her interest in photography and art.
According to
The Independent
, Razan had started a degree at North Carolina State University last summer, studying Architecture and Environmental Design, and her Twitter biography read: "I like buildings and other stuff."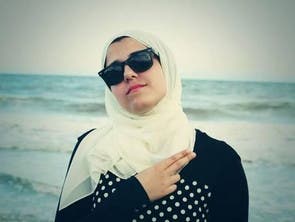 Razan Abu-Salha, pictured in a post by Deah Barakat describing her as 'the best third wheel ever'. (Facebook)
Some social media voices compared the incident to the Charlie Hebdo shootings in Paris, and others called on U.S. President Barack Obama, other world leaders and religious figures to condemn the attacks.
In memory of the three victims, a community Facebook page has been set up "Our Three Winners."
One statement from the page read: "Please rely on each other and remember these beautiful souls in your happy thoughts. Their faith meant a lot to them, and it is in fact what helps us all feel at peace with the tragedy of their murder."
On Twitter, the hashtag [HASHTAG]#MuslimLivesMatter[/HASHTAG] trended as those suspecting the murders were a hate crime reacted.
Last Update: Wednesday, 11 February 2015 KSA 15:55 - GMT 12:55
http://english.alarabiya.net/en/News/world/2015/02/11/Three-killed-in-U-S-shooting-.html