Lawmakers offer bill to block F-35 for Turkey
By:
Joe Gould
03.May.2019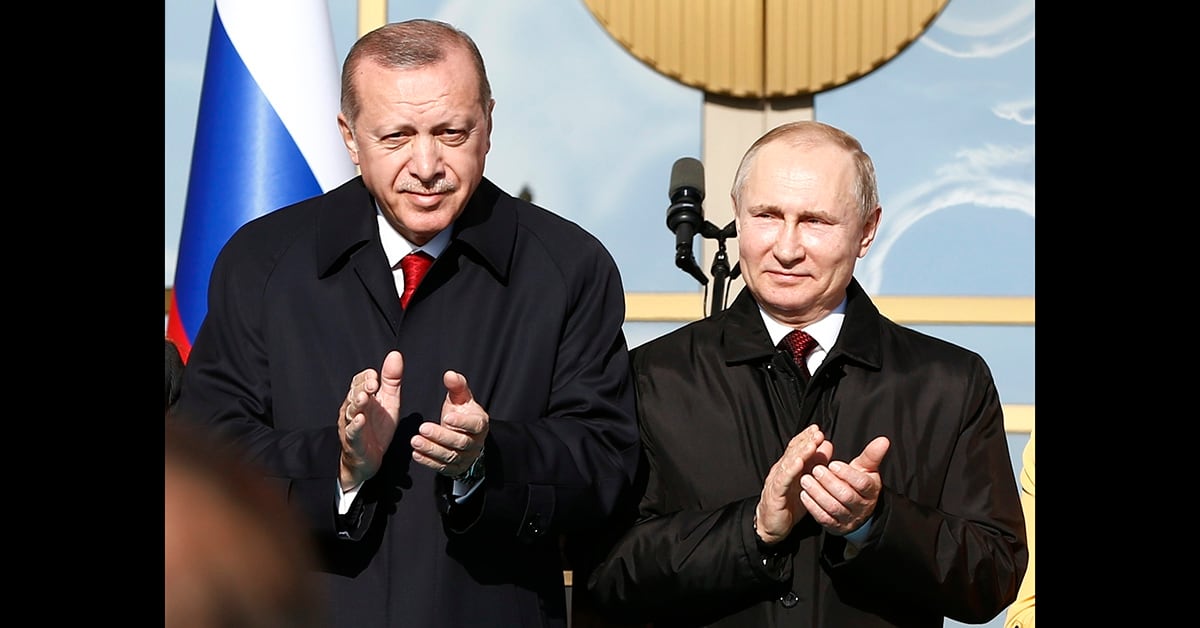 In this April 3, 2018, file photo, Turkey's President Recep Tayyip Erdogan left, and Russia's President Vladimir Putin, right, applaud during a welcome ceremony prior to their meeting at the Presidential Palace in Ankara, Turkey. (Burhan Ozbilici/AP)
WASHINGTON — Key House lawmakers announced their bill Friday to
bar the sale of the F-35 warplane
to Turkey if Ankara buys the Russian
S-400 surface-to-air missile system
.
The bipartisan trio of senior House Armed Services Committee members — Reps. Mike Turner, R-Ohio; John Garamendi, D-Calif., and Paul Cook, R-Calif., sponsored the bill, a companion to a bipartisan
bill
from Sen. James Lankford, R-Kan., and others. Both bills are called the "Protecting NATO Skies Act of 2019."
"Operating the S-400 alongside the F-35 would compromise the aircraft and its sensitive technology, impact interoperability among NATO allies, and most importantly pose serious risk to our shared defense and security," Garamendi said in a statement. "This bill sends a strong and important message to Turkey — proceeding with the S-400 is unacceptable and will not be tolerated."
The House bill came days after Turkish President Recep Tayyip Erdogan reportedly discussed with U.S. President Donald Trump a Turkish proposal to establish a joint committee over Turkey's plans to purchase the S-400.
A statement from Erdogan's office says the two leaders held a telephone conversation on Monday during which they also discussed the fight against terrorism and efforts to increase trade.
Turkey's decision to purchase the advanced Russian system has deepened a rift between the NATO allies.
The U.S. has long been in talks for Turkey to buy the U.S.-made Patriot air defense system as an alternative to the S-400. In March, Acting Defense Secretary Patrick Shanahan told Turner "we need Turkey to buy the Patriot."
After months of warnings, the U.S., in April, stopped delivery of F-35 parts to Turkey in retaliation for Ankara's decision to move ahead with the S-400. The aircraft's delivery was planned for this summer, but the move was the first step toward actually ending the sale.
U.S. officials say the Russian defense system could pose a threat to the F-35 program and have warned of consequences if the purchase is finalized.
Turkey denies that the system is a threat and has proposed a joint committee to review security risks.
Turkey is set to buy 100 F-35As over the entirety of the F-35 program and Turkish companies are also part of the program's industrial base and play a role in sustainment.
However, after months of warnings, Washington stopped delivery of F-35 fighter jet parts to Turkey last month in retaliation for Ankara's decision to move ahead with the purchase of a Russian surface-to-air missile system.
Last month, Senate Armed Services Committee Chairman Jim Inhofe, R-Okla., and ranking member Jack Reed, D-R.I., penned a New York Times op-ed with Senate Foreign Relations Committee Chairman Jim Risch, R-Idaho, and ranking member Bob Menendez, D-N.J., threatening legislation that would bar Turkey from both the F-35 and S-400.
The Associated Press contributed to this report.
A new bill would bar the sale of the F-35 if Ankara buys Russia's S-400 system.
www.defensenews.com