Turkey: No steps yet to normalize ties with Egypt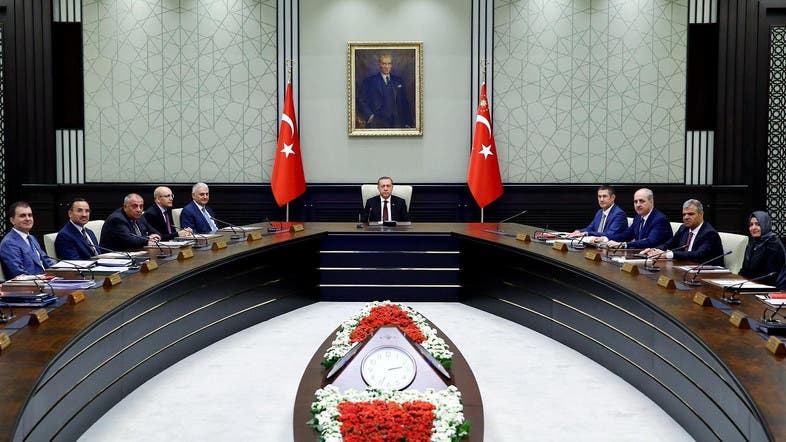 Turkish President Tayyip Erdogan (C) chairs a cabinet meeting in Ankara, Turkey, June 20, 2016. (Reuters)
Agencies, Ankara Monday, 11 July 2016
Turkey has not taken any steps yet on normalizing relations with Egypt but would like to restore ties, Deputy Prime Minister Numan Kurtulmus said on Monday, after Ankara recently patched up relations with both Russia and Israel.
Kurtulmus, the government's main spokesman, made the statement at a regular news conference in Ankara. Turkey last month announced the restoration of diplomatic ties with Israel after a six-year rupture and expressed regret to Russia over the downing of a warplane, seeking to mend its strained alliances.
Ties between Turkey and Egypt ruptured in 2013 after the military ousted elected Islamist president Mohamad Mursi, a close ally of Erdogan's AKP government.
Erdogan said Tuesday that a thaw with Egypt's "oppressive regime" should not be expected any time soon.
"The context with Egypt is different from the approaches undertaken with Russia and Israel," the Turkish strongman told journalists in comments cited by Dogan news agency.
He stressed that Turkey's dispute was with Egypt's government, not its people, and repeated his condemnation of the crackdown on Mursi's Muslim Brotherhood.
"Sentences handed down to Mursi and his friends have been based on fabrications," he said. "These people are our brothers we cannot accept these decisions by an oppressive regime."
Erdogan has previously condemned the "coup" against Mursi, and in a show of solidarity at rallies he often uses a four-finger hand gesture known as "Rabia" - seen as a symbol of the Muslim Brotherhood.
Last Update: Monday, 11 July 2016 KSA 13:53 - GMT 10:53
http://english.alarabiya.net/en/New...o-steps-yet-to-normalize-ties-with-Egypt.html