Turkey, US Set Plan To Train Syrian Rebels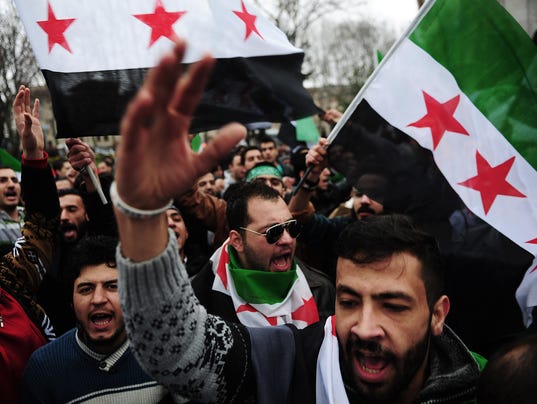 ANKARA, Turkey — A joint US-Turkish military program designed to train and equip Syrian rebels will start in May, Turkish Defense Minister Ismet Yilmaz said Tuesday.
The two NATO allies aim to train 5,000 to 10,000 Syrian rebels within a year after the program begins.
While Washington hopes the rebels primarily will fight the Islamic State of Iraq and Syria (ISIS), Ankara said the rebels should mainly target the security forces of Syrian President Bashar al-Assad, Turkish President Recep Tayyip Erdogan's nemesis.
Turkish Foreign Minister Mevlut Cavusoglu said on Friday that the program, publicly known as "train-and-equip," was delayed by Washington. But he said the delay was minor and ruled out any political or technical snags.
Turkish officials said that in the first phase of the plan, about 2,000 Free Syrian Army (FSA) fighters will be trained by a Turkish-US team at a military base in Turkey. That number could go up to 10,000, "even 15,000," depending on how FSA's war against al-Assad and ISIS develops.
Despite the deal, Turkey and the US have different opinions on the no-fly zone and safe zone, which Turkey said is essential to topple al-Assad. US priority is to fight ISIS, which has captured large swathes of land in Syria and Iraq since last summer.
Last November, Turkey and the US agreed in principle on the necessity of supporting moderate Syrian rebels to fight against Islamic State and Syrian regime forces in the country.
Ankara has long sought a no-fly zone or secure area along the Syrian-Turkish border, but Washington has been reluctant, insisting that a buffer zone is not the best way to relieve the humanitarian crisis in northern Syria.
Turkey argues that a safe zone and "a ground operation of moderate Syrian rebels, supported by airstrikes and a buffer along the border" are the key to successfully stemming the potential flow of Syrian refugees to Turkey.
Turkey, US Set Plan To Train Syrian Rebels