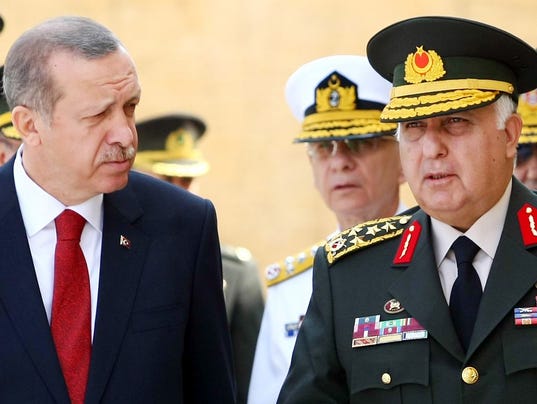 Turkish Chief of Staff Gen. Necdet Ozel, right, speaking with President Recep Tayyip Erdogan, hopes to see deliveries of the laser weapon within six years.(Photo: Adem Altan/ AFP)
ANKARA — Procurement officials have confirmed press reports that Turkish engineers recently successfully tested the first prototype of a laser weapon similar to a US-developed system.
The country eventually aims to develop and manufacture an indigenous high-power laser weapon system that will detect, track and neutralize land, sea and aerial targets, the official said.
"The system will be primarily used against enemy drones, cruise missiles and mortar ammunition," one official familiar with the program said.
In 2013, the Turkish government announced that it planned to develop a precision laser close-in weapon system initially to be installed on the planned next-generation frigates, the TF-2000. The government tasked the state scientific research institute's (TUBITAK) defense and security technologies research and support group, SAVTAG, with the program.
SAVTAG has partnered with military electronics specialist Aselsan, Turkey's biggest defense company, and Bilkent University in Ankara. A research and development budget of around US $450 million was earmarked for the effort.
"The first critical phase has been successfully completed," one TUBITAK official said. "The first prototype successfully destroyed the designated target."
The tests were carried out at TUBITAK's laboratories, and the officials said the target was destroyed without the weapon being affected by the moving platform on which it was installed.
"This is the R&D and design phase and we are planning quickly to move on to advanced development," the TUBITAK official said.
Turkey's military and government leaders agree to support the program and add it to the military's inventory "as soon as possible," the official said.
Early in February, Army Gen. Necdet Ozel, the top military commander and chairman of the Turkish General Staff, discussed the program with Science, Industry and Technology Minister Fikri Isik. They agreed to expect deliveries within six years, the official said.
In the first, four-year phase of the program, a laser system will be procured potentially from a foreign supplier and will be integrated into the weapon system. The second, two-year phase will see a locally made laser system to be integrated into the weapon.
TUBITAK aims to build a system architecture enabling additional features in the future.
Turkish Indigenous Laser Weapon Advances