Two mln pilgrims gather at Mount Arafat for Hajj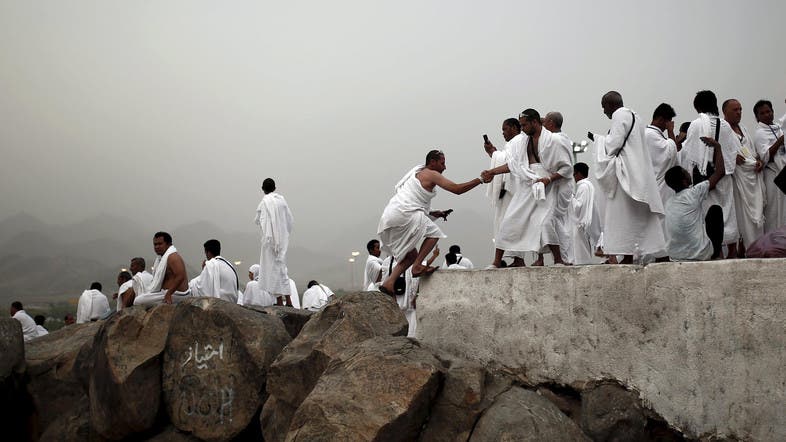 A Muslim pilgrim helps a fellow pilgrim on Mount Mercy on the plains of Arafat during the annual haj pilgrimage, outside the holy city of Mecca. (Reuters)
By Staff Writer | Al Arabiya News
Wednesday, 23 September 2015
Hajj pilgrims from around the world gathered at Mount Arafat in Saudi Arabia on Wednesday to stand in prayer till sunset in one of the most important days of the Islamic calendar.
Some 2 million pilgrims packed should-to-shoulder for an emotional day of repentance and supplication. Many wept as they raised their hands toward the sky, asking for forgiveness and praying for loved ones.
Throughout the day, hundreds of thousands of pilgrims scaled the hill and prayed facing the Kaaba, the cube-shaped structure in Makka that observant Muslims around the world face in prayer five times a day.
In the same day, pilgrims replaced the covering of the Kaaba with a new one, a custom done every year during pilgrimage, the official Saudi Press Agency (SPA) reported.
Muslims believe prayer on this day at Mount Arafat, about 20 kilometers (12 miles) east of Makka, is their best chance to erase past sins and start anew.
Saudi authorities have prepared an integrated traffic plan to help ease the pilgrims' path from the tent city of Mina to Mount Arafat, a 14.4km trek.
The first train trips from Mina to Arafat also begun transporting pilgrim at dawn on Wednesday, and will continue until the completion of all pilgrims to the next site. Authorities estimate 1.38 million pilgrims will descend to the plains of Arafat this year.
It's not only pilgrims who will mark the day but also Muslims from around the globe, as Islamic beliefs also dictate fasting on the day will wipe out sins.
It was on this day that Islam's Prophet Mohammad gave his famous farewell sermon, in 632 AD according to the Gregorian calendar, addressing around 114,000 pilgrims at the time.
Mt. Arafat holds significant value to Muslims given that it is there that Prophet Mohammed gave his last sermon.
READ: Live blog – Hajj 2015
Last Update: Wednesday, 23 September 2015 KSA 15:43 - GMT 12:43
http://english.alarabiya.net/en/News/middle-east/2015/09/23/Pilgrims-head-to-Mt-Arafat-for-most-important-day-of-hajj.html