U.S. F/A-18 Hornets almost clashed with Russian fighter bombers over Syria
Jun 20 2016 -
0 Comments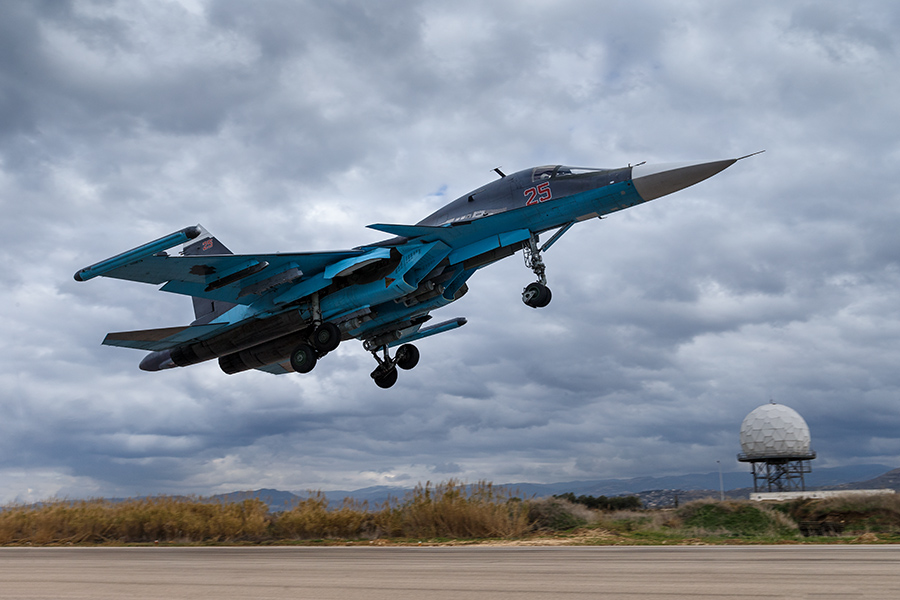 By David Cenciotti
According to the Pentagon, U.S. and Russian combat planes have had some tense moments over Syria.
There have been several close encounters between Russian and U.S. and allied manned and unmanned aircraft over Syria since Moscow deployed a contingent of combat planes to Latakia, in northwestern Syria, at the end of September 2015.
On Oct. 10, 2015, a
Russian Su-30SM
had close encounter with an unspecified U.S. combat plane supporting
Operation Inherent Resolve.
According to Russia's Ministry of Defense, the
Flanker-derivative 4++ Gen aircraft
was providing air escort for a package of attack planes in Syria when it approached the American plane, to perform a VID (Visual Identification) even though some sources suggested it was the Russian aircraft to be intercepted by a U.S. plane.
Anyway, even before Oct. 10, Russian warplanes tailed
U.S. Predator drones
on at
least three separate occasions
and at least a couple of times American aircraft reportedly changed their routing to deconflict with Russian aircraft.
One of those incidents saw the involvement of
U.S. F-16s from Incirlik, Turkey, and some RuAF Su-34s.
After the first incidents, Russia and the US agreed on coordinating their air activity in the skies over Syria. More or less.
Close encounters and provocations were still reported quite frequently even after
Nov. 24, 2015 when a Turkish Air Force (TuAF) F-16 shot down a Russian Air Force (RuAF) Su-24
that had allegedly violated the Turkish airspace.
In February 2016 the German Air Force said that
Russian Air Force (RuAF)
jets, including the
the 4++ generation Su-35S Flanker air superiority fighters,
often shadowed their Tornados during reconnaissance missions in Syrian airspace out carried out from Incirlik airbase, Turkey.
A "near clash" between four Israeli F-15s and two
Russian Su-30SM
s allegedly occurred on Apr. 20, more than one month after Putin had ordered the
withdrawal of part of the Russian combat planes from Hmeymim airbase
: flying over the Mediterranean Sea, the Israeli jets approached Latakia forcing the Russians to scramble two of their Sukhoi jets.
Several Israeli media outlets
even said that
Russians
fired at least twice on Israeli military aircraft but no incident has ever been confirmed.
Another "near clash" occurred last week, on Jun. 16.
Indeed, as reported by the
CNN
, U.S. F/A-18s were somehow close to engage Russian Sukhois (still not clear whether Su-34s or Su-24s as there are conflicting reports on the type of aircraft involved) that bombed U.S.-backed Syrian rebels near the Jordan border.
Here's what happened according to Theodore Schleifer and Barbara Starr:
"The strikes, which the U.S. says killed some New Syrian Army troops, occurred about six miles from the Jordanian border, according to a U.S. defense official.
The U.S. diverted armed FA-18s to the area after the first round of two strikes, and the pilots then tried to call the Russians on a previously agreed-upon pilot-to-pilot communications channel but did not receive an answer.
As soon as the U.S. jets left the area to refuel, the Russians came back for another round of bombing, the defense official said.
"Russian aircraft conducted a series of airstrikes near al-Tanf against Syrian counter-ISIL forces that included individuals who have received U.S. support. Russian aircraft have not been active in this area of Southern Syria for some time, and there were no Syrian regime or Russian ground forces in the vicinity," a senior defense official said. "Russia's latest actions raise serious concern about Russian intentions. We will seek an explanation from Russia on why it took this action and assurances this will not happen again."
The first two bombing runs by the Russians were carried out by two SU-24 Russian jets coming out of their base near Latakia. The jets dropped what is believed to be the equivalent of U.S. 500-pound bombs and possibly cluster munitions, according to the U.S. defense official."
So, it looks like the American Hornets were pretty close to intercepting the Sukhois (in other reports they were able to visually ID the Russians), tried to contact the Russian planes as these carried out an air strike, but these simply ignored the calls on a previously agreed radio frequency.
The question is what are the ROE (Rules Of Engagement) in place over Syria? Most probably there are strict ROE to prevent escalation and avoid direct confrontation but what would have happened if the U.S. F/A-18 had intercepted the Russian warplanes attacking the US-backed rebels ignoring the American calls?
https://theaviationist.com/?p=39043?p=39043