U.S. officials: ISIS oil going to Assad, some to Turkey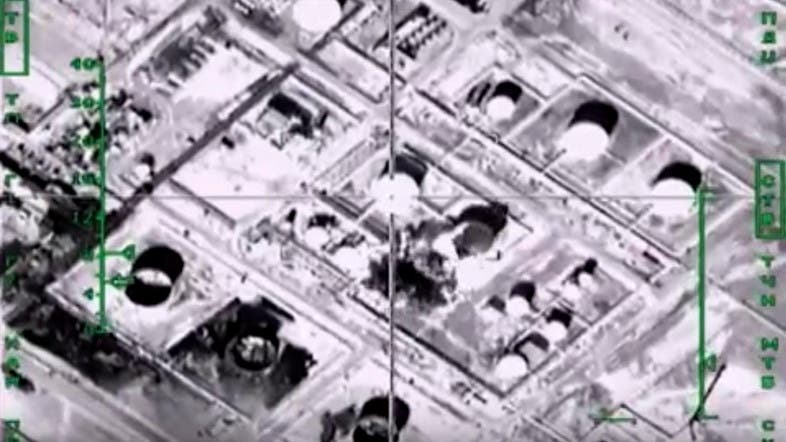 This photo made from the footage taken from Russian Defense Ministry official web site Wednesday, Nov. 18, 2015 shows oil refinement facilities hit during the attack of Russian warplanes in Syria. (AP)
Reuters, London Friday, 11 December 2015
ISIS has made more than $500 million trading oil with significant volumes sold to the government of Syrian President Bashar al-Assad and some finding its way to Turkey, a senior U.S. Treasury official said on Thursday.
The United States, France, Britain and Russia have vowed to defeat ISIS, the group that controls large parts of Syria and Iraq.
A U.S.-led coalition is bombing the hardline group, as is Assad's only big-power supporter Russia, in an attempt to kill its leaders and cripple the oil wells which the group uses to finance its rule and attacks abroad.
In one of the most detailed public explanations of ISIS' oil trade, U.S. Treasury Department official Adam Szubin said militants were selling as much as $40 million a month of oil at the installations which was then spirited on trucks across the battlelines of the Syrian civil war and sometimes further.
"ISIL is selling a great deal of oil to the Assad regime," Szubin, acting under secretary for Terrorism and Financial Intelligence with the Treasury, told an audience at Chatham House in London.
"The two are trying to slaughter each other and they are still engaged in millions and millions of dollars of trade," Szubin said of Assad's government and Islamic State, also known as ISIS or ISIL.
The "far greater amount" of ISIS oil ends up under Assad's control while some is consumed internally in ISIS-controlled areas. Some ends up in Kurdish regions and some in Turkey, he said.
"Some is coming across the border into Turkey," Szubin said when asked for details on the money trail.
"Our sense is that ISIL is taking its profits basically at the wellhead and so while you do have ISIL oil ending up in a variety of different places that's not really the pressure we want when it comes to stemming the flow of funding - it really comes down to taking down their infrastructure," he said.
Szubin said it was unclear whether the $40 million a month estimate could be multiplied over a year. But in remarks prepared for delivery, he said ISIS had made more than $500 million from the oil trade, but did not give a more specific time period.
Last Update: Friday, 11 December 2015 KSA 08:34 - GMT 05:34
http://english.alarabiya.net/en/News/middle-east/2015/12/11/U-S-officials-ISIS-oil-going-to-Assad-some-to-Turkey.html