U.S. Treasury names 200 figures close to Vladimir Putin
By Sara Shayanian |
Jan. 30, 2018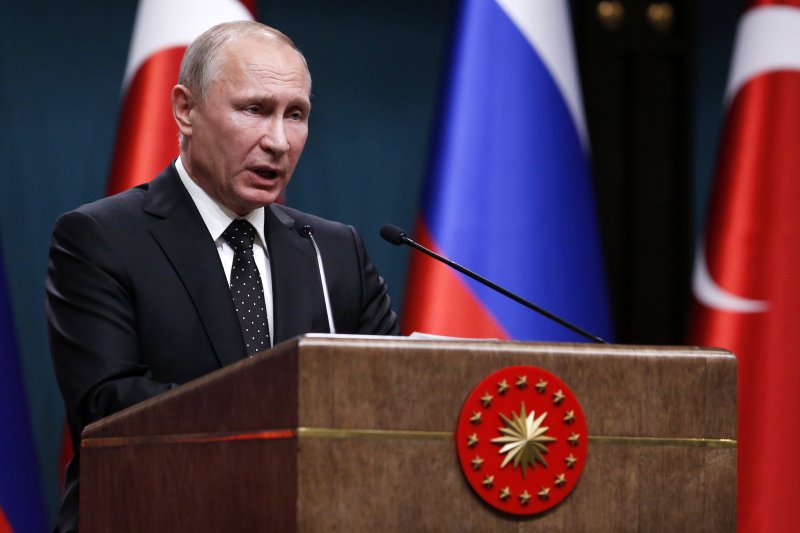 The U.S. Treasury released a list late Monday identifying a number of elite Russian business and political figures. File Photo by Tumay Berkin/EPA-EFE
Jan. 30 (UPI) -- The U.S. Treasury has released a list of prominent Russian business and political figures linked to President Vladimir Putin, implementing a law aimed at punishing Russia for meddling in the 2016 election and military intervention in Ukraine.
The list
, published just before midnight Monday, names 114 senior political figures with ties to Putin and nearly 100 oligarchs with a net worth of $1 billion or more -- including aluminum magnate
Oleg Deripaska
and Chelsea soccer club owner
Roman Abramovich
.
Prime Minister
Dmitry Medvedev
, oligarchs Roman Abramovich and Mikhail Prokhorov -- who challenged Putin in Russia's 2012 presidential election -- and top officials in the government's FSB and GRU spy agencies are also on the list.
The names include more than 40 of Putin's closest advisers -- including spokesman
Dmitry Peskov
-- and all 30 of his cabinet ministers. The most prominent senior official not appearing on the list is the Kremlin's central bank governor, Elvira Nabiullina.
"I feel nothing about it. I am pretty much indifferent to that," Peskov
told reporters
about his inclusion.
Peskov added that the Treasury's "unprecedented"
report effectively created a list
of "enemies" of the United States.
"De facto everyone is called the enemy of the United States," the spokesman said. "If you read the text and the title of this document, all this is done in accordance with the law on countering the enemies of the United States."
Putin
called the list Tuesday
"nonsense," and said it would "reduce bilateral relations to zero" between Moscow and Washington.
"Average Russians stand behind the names on this list, so that means the entire country has been listed ... We should carry on with our own business, and then they will realize that it's pointless to make these lists, to threaten us," Putin said. "The dogs bark, but the caravan keeps going."
Monday's Treasury report is part of a law Trump approved in August, the Countering America's Adversaries Through Sanctions Act, which expands sanctions against Russia by
punishing those who do business
with the Russian military or intelligence sectors. It also called for the Treasury to give Congress a report on Russia's wealthiest citizens.
No new sanctions were imposed with the list, but some on the individuals on it are already under U.S. sanction -- though they were part of the law passed by Congress that mandated the release of the list. The Trump administration has said further sanctions are unnecessary.
A State Department representative
told Politico
the administration is using the law "to press Russia to address our concerns related to its aggression in Ukraine, interference in other nations' domestic affairs and abuses of human rights."
Earlier this week
, Peskov said the list was an attempt by the United States to influence Russia's 2018 presidential election.
"We really do believe that this is a direct and obvious attempt to time some steps to coincide with the election in order to exert influence on it," he said.
However, Peskov said the new list will have no influence on the March vote, in which Putin is
running for a fourth term
.
Last weekend, the
Treasury announced sanctions
against 21 individuals and nine business entities as part of its "commitment to maintain sanctions pressure on Russia until it fully implements its commitments under the Minsk agreements."
"The U.S. government is committed to maintaining the sovereignty and territorial integrity of Ukraine and to targeting those who attempt to undermine the Minsk agreements," Treasury Secretary Steven Mnuchin said. "Those who provide goods, services, or material support to individuals and entities sanctioned by the United States for their activities in Ukraine are engaging in behavior that could expose them to U.S. sanctions."
https://www.upi.com/Top_News/US/201...-close-to-Vladimir-Putin/2351517234235/?nll=1