By Paul McLeary 2:20 p.m. EST January 6, 2015
$300 Million in Donated US Military Equipment Sent to Iraq in 2014
WASHINGTON — The United States provided the Iraqi armed forces with $300 million in donated military equipment in 2014, and over the next two months will deliver six more Abrams tanks and 50 up-armored Humvees at no cost to the Baghdad government, according to information provided by the US Embassy in Baghdad.
The deliveries come on the heels of the announcement that the US had donated 250 mine-resistant, ambush-protected (MRAP) vehicles to Iraqi and Kurdish forces since late December in a deal that also provided six months of US-provided maintenance for the hulking blast-resistant vehicles.
"The number one threat to the Iraqi security forces are roadside bombs and vehicle-borne bombs," US Ambassador to Iraq Stuart Jones said in a Tuesday statement. "These MRAP vehicles provide increased ballistic and counter mine protection for Iraqi security forces."
Some of the equipment provided by Washington includes 12,000 sets of body armor, Kevlar helmets, medical kits, counter-IED equipment, vehicle maintenance and sustainment, and tank and helicopter maintenance training. Preparations are also being made to ship 10,000 M16 rifles to the Iraqi Army in the coming weeks.
The multinational coalition against the radical Islamic State has conducted more than 900 airstrikes against targets in Iraq since Aug. 8 at an average daily cost of over $8 million, according to figures provided by the Pentagon.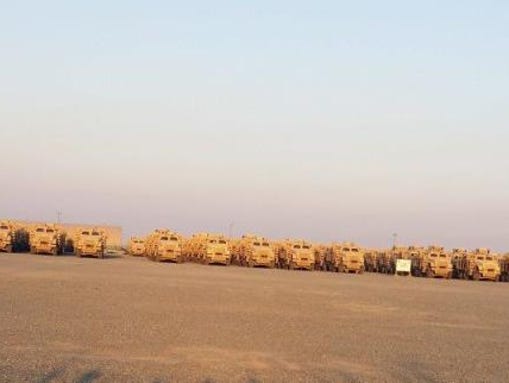 US MRAPs in Kuwait await shipment to Iraq(Photo: US State Dept.)
That would put the price tag at more than $1.2 billion as of Tuesday.
And it is not only the MRAPs that are being shipped to help protect Iraqi troops from the threat of roadside bombs. US troops stationed in Baghdad, Taji and Al Asad Air Base are training Iraqi security forces in counter-IED tactics, and "the United States is providing Iraq with millions of dollars in equipment to defeat IEDs, booby traps, and homemade bombs," according to a statement by the US Embassy in Baghdad.
Email:

[email protected]

.
Twitter:
@paulmcleary
US Donates More Abrams Tanks, Humvees to Iraq