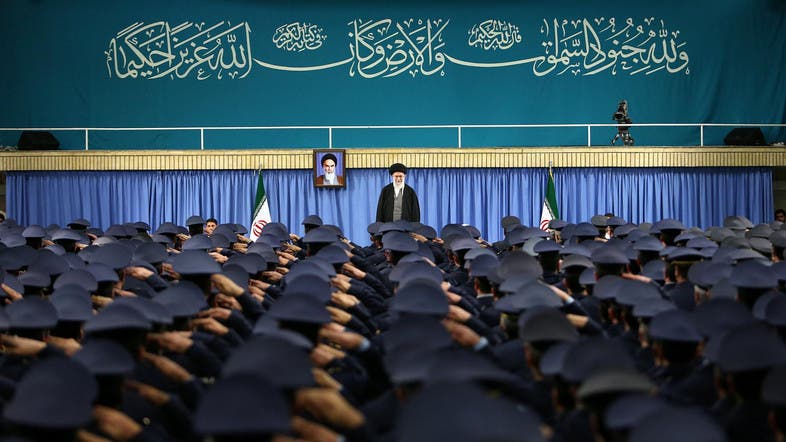 IRGC is no straightforward military force, its influence stretches into all facets of Iranian society. (AFP)
Staff writer, Al Arabiya EnglishFriday, 13 October 2017
Text size
A
A
A
The US Treasury Department announced on Friday that Iran's Revolutionary Guard has been placed on the US sanctions list.
The new sanctions included four entities, including a Chinese company, for its relationship with the Revolutionary Guards.
US president, Donald Trump said his new strategy towards Iran would start by imposing sanctions on the Revolutionary Guard, who he described as a corrupt entity that has benefited from Iran's wealth to spread chaos.
He said the Revolutionary Guard "is taking over a large part of the Iranian economy ... to finance the war and terrorism abroad," asking the Treasury to take "tougher sanctions" against them.
Despite that, Trump did not classify the group as a "terrorist organization".
The Treasury Department on Friday named three Iranian companies as part of the fight against the proliferation of weapons of mass destruction and because of their support for the Iranian military and Revolutionary Guards. It also targeted a fourth company based in China.
"The IRGC has played a central role to Iran becoming the world's foremost state sponsor of terror. Iran's pursuit of power comes at the cost of regional stability, and Treasury will continue using its authorities to disrupt the IRGC's destructive activities," said Treasury Secretary Steven Mnuchin.
"We are designating the IRGC for providing support to the IRGC Quds Force, the key Iranian entity enabling Syrian President Bashar al-Assad's relentless campaign of brutal violence against his own people, as well as the lethal activities of Hezbollah, Hamas, and other terrorist groups."
He added: "We urge the private sector to recognize that the IRGC permeates much of the Iranian economy, and those who transact with IRGC-controlled companies do so at great risk."
Earlier on Friday, US Secretary of State Rex Tillerson said US President Donald Trump would not ask Congress to re-impose sanctions on Iran.
Tillerson said Trump would give the US Treasury broad powers to impose "specific" sanctions on Iran's Revolutionary Guards.
But Tilerson said that Tramb's declaration of non-ratification of Iran's commitment to the agreement does not mean America's withdrawal from it.
"Trump wants Congress to tighten policy toward Iran by requiring it to allow more access to its nuclear sites," he said.
This will put Congress on the front line, where House representatives will have 60 days to decide whether or not to re-impose sanctions that have been lifted since 2015.
Tillerson said he discussed with his Iranian counterpart the possibility of concluding a new agreement that includes the ballistic missile program.
"We believe that the agreement is weak and does not provide answers to many important questions," he said.
"What we propose is what we think is the best way to improve this agreement, and if we cannot, we can withdraw from the agreement," he said.
Tillerson confirmed that the president's message would be "Let us try to improve this agreement." The US administration wants to abolish the timetables set out, under which the Iranian nuclear program is gradually lifted starting from 2025.
On the other hand, Tillerson announced that Trump would impose targeted sanctions on officials of Iran's Revolutionary Guards, but would not classify them as a terrorist organization.
"We have seen that there are certain risks and complexities associated with the classification of a whole country's army as a terrorist organization," he said.
Instead, sanctions would be imposed "targeting the funding structures themselves, specific individuals, and penalizing persons who support such activities".
Mattis says eyeing 'provocative' Iran actions
US Defense Secretary Jim Mattis said on Friday he had not yet seen any provocative actions from Iran following President Donald Trump's speech outlining a more confrontational approach to Iran and added there had been no change in US military posture so far.
"Right now, we keep an eye on the potential for more provocations from the Iranians but right now we have not seen that," Mattis told reporters on board a military plane.
"With the Iranians destabilizing record from Lebanon to Syria, from Yemen to Afghanistan, of course we watch for this," Mattis said. "Right now we are not changing our posture."