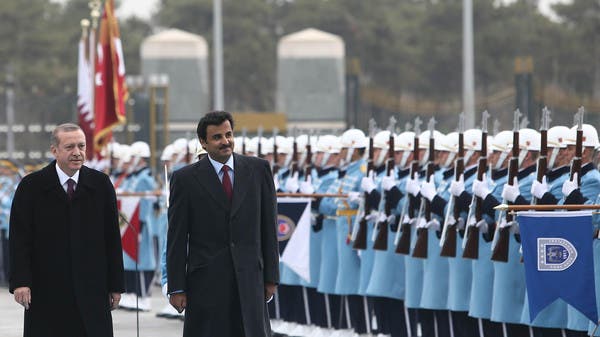 Turkish President Recep Tayyip Erdogan, left, and Qatar's Emir Sheikh Tamim bin Hamad Al-Thani inspect a military honour guard at the new presidential palace in Ankara, Turkey, Friday, Dec. 19, 2014. (File Photo: AP)
By Menekse Toyay | Special to Al Arabiya News, Istanbul
Thursday, 25 June 2015
The military agreement signed by Turkey and Qatar in December, whose details became public this month, has symbolic and material implications for security in the Gulf region.
Some experts say the impetus behind the agreement were the conflicts in Iraq, Syria, Libya and Yemen, as well as the rise of the Islamic State of Iraq and Syria (ISIS).
However, others say unforeseen challenges may arise for Turkish soldiers deployed on Qatari territory.
The two countries also agreed to exchange operational training experiences, cooperate in the defense industry and carry out joint military exercises.
Turkey and Qatar will be able to use each other's ports, airports, air space and military facilities, as well as share intelligence. They will also further their counter-terrorism cooperation.
"Any dispute that may occur during the implementation phase or in interpretation of this agreement shall be settled through consultations and negotiations between the parties. They shall not apply to any national or international tribunal or third party," says the 10-year agreement.
Metin Gurcan, a security policy researcher at Ankara's Bilkent University and a former special-forces officer, said the agreement was spurred by the need to balance Iranian assertiveness in the Gulf, as well as China's growing role in the Middle East.
"This military alliance will enable Qatar to boost its defense industry capacity and enhance its military experience, while diversifying its military partners in the region," Gurcan told Al Arabiya News.
Turkish ambitions
Experts say this move is consistent with Turkey's ambitions to become a regional power using soft power such as diplomacy, along with hard power such as its military.
"The return of Turkish soldiers to Qatar, which it evacuated on Aug. 19, 1915, after one century carries a significant symbolic meaning. However, the Turkish military takes these strategic steps by rigorously considering domestic and international norms," Gurcan said.
He added that the last couple of years have seen more Gulf students educated in Turkish military schools, indicating the rising regional prestige of the Turkish army.
Qatar observed on June 18 the two-day Anatolian Eagle air exercise in Turkey's Konya airbase, with the involvement of land, sea and air forces from Turkey, the United States, Germany, Britain, Spain, Pakistan and NATO.
The aim of the exercise was to evaluate countries' war-readiness and expand multinational cooperation.
"If you add a security component to the political relations, the alliance will become longer-term... but you should avoid being trapped into local politics and sectarian conflicts," Gurcan said.
Mehmet Akif Okur, a security expert at Gazi University in Ankara, said one of the main Turkish motivations for such a deal was to gain access to a lucrative market.
"The Gulf region has significant importance in terms of global economic and political balances, not only for global powers but also for regional actors. This deal will provide Turkey with an opportunity to increase its weapons export to the region," Okur told Al Arabiya News.
However, Okur expressed concern about possible tensions that Turkish soldiers may be subject after being deployed to Qatar.
"Although the presence of the Turkish military will be a counterbalancing force for general stability, Turkey might be engaged in unforeseen challenges," Okur said.
He pointed to border issues between Qatar and Saudi Arabia, as well as the sizable Shiite community in Qatar, accounting for 10-20 percent of the population.
Common interests
Michael Stephens, head of the Royal United Services Institute for Defence and Security Studies (RUSI) in Qatar, said Ankara and Doha share a number of regional interests that concern them deeply, especially regarding the turmoil in Syria and the change of power in Egypt.
"Their general outlooks also closely align in Libya, where they support the government based in Tripoli and look toward politically Islamist actors as vehicles for their interests across the region," Stephens told Al Arabiya News.
"It was natural, therefore, that they should look toward each other for support at a time of major regional upheaval in which new actors have emerged, threatening the break-up of regional states and the established order."
Stephens said it was unlikely that either country would be required to come to the defense of the other against an external state aggressor, but this was nonetheless a strong message of political and security solidarity that clearly defines an arc of regional policy in the Sunni world.
"Saudi Arabia has clearly invested time in trying to reunite a fractured Sunni bloc in the face of what is perceived to be an expansive Iran. Both Turkey and Qatar form a vital part of this axis," he said.
Syrian President Bashar al-Assad "is currently on the back foot. As his regime comes under increasing pressure, it is likely that cooperation between Saudi, Turkey and Qatar will increase, with Riyadh attempting to keep Egypt involved on the fringes," Stephens added.
Last Update: Thursday, 25 June 2015 KSA 10:08 - GMT 07:08
https://english.alarabiya.net/en/perspective/analysis/2015/06/25/What-does-Turkey-Qatar-military-deal-mean-for-Arab-conflicts-.html